Mary Portas to Maryport for high street makeover?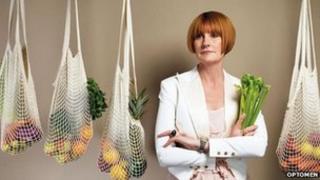 The government is on the hunt for 12 towns with innovative ideas on how to revive our ailing high streets.
The reward for the lucky dozen will be up to £100,000 of funding, and the chance to test out the ideas of retail guru Mary Portas.
But there's likely to be no shortage of competition for the honour because, as I probably don't need to tell you, the last few years have been tough for our high streets.
A look at the statistics across the country shows there are towns where one in three shops are empty.
Terminal decline?
Maryport in West Cumbria is one of those strugglers. It has a vacancy rate of 32%.
At their zenith, Maryport's shopping streets were a thriving hub for the town. Today, they look slightly sad.
It's a decline that began decades ago, and like so many towns, there are multiple factors at work.
People are more mobile than they used to be, and can and do travel further afield for their shopping.
The kind of small, locally owned shops that used to be the essence of towns like Maryport have also struggled as chain store multiples have grown.
Add to that the impact of the current economic problems and you have a recipe for terminal decline.
Carol Tindall from Maryport Town Council believes revival will be difficult without investment.
She said: "The problem is that it's run down and it looks run down. We won't attract people to come here and spend their hard-earned cash particularly at this time of economic doom and gloom.
"We used to have a gentleman's outfitters, a dress shop, a hat shop, a glove shop, lots of individual bakers, and the likes of Woolworths, but they have all been replaced by charity and pound shops or they're empty."
Shopping queen
So can Mary Portas help Maryport?
Café owner Debbie Wright certainly believes it could make all the difference.
She said: "I think it would be fantastic if we won it because all the potential is here. We have got a Roman museum, a maritime museum, an aquarium, and some really good shops but what we need is it pulled together more.
"There is a plan in place, and if you put that together with the expertise of Mary Portas we will be able to really go forward."
Some though are more sceptical. Sandra Bowman's wool shop has been one constant presence in the decades of decline.
But she doesn't believe the town will revive until the local economy picks up.
She said: "We need money to generate business. Years ago, the women used to come out of the factories with their pay packets on a Friday and spend them in the town's shops that afternoon.
"Until we get local women back into work in local factories and businesses, we won't be anywhere near as busy as we were in the past."
Empty shops
But Maryport will face many rivals to become one of the government's dozen Portas Pilots. Hundreds of towns are expected to apply.
And the stats on empty shops just in the North East and Cumbria reveal how many towns and cities have struggling high streets.
More than one in four shops in Stockton (26.9%) and Hartlepool (26.6%) are vacant, while Sunderland (23.6%) and Newcastle (23.2%) are not far behind. In Gateshead 20.5% of shops are empty.
In Cumbria, Wigton has a vacancy rate of 16.9%, Whitehaven 16.4%, Workington 14.8%, and Penrith 13.8%.
Only tourist hotspots like Keswick (6.4%) could genuinely claim to be thriving.
Some will query whether being a Portas Pilot can make that much difference though.
A funding package of up to £100,000 won't transform a town centre, and many retailers would actually like to see big drops in business rates.
And of course there is still the continuing development of out of town shopping, and the ongoing dominance of the supermarket giants - the one set of retailers who are still on the march.
The Portas report proposes little in the way of curbs on them.
Instead the emphasis in the government scheme will be on original ideas rather than restrictions and pricey regenerations.
Winning bidders are expected to form town teams of politicians and shopkeepers intent on turning the high street around.
The answer though may not be a return to the past.
Instead Mary Portas has admitted that towns will have to search for new uses for their shopping centres, as the high street heyday of the 1960s won't ever come back.
Towns and cities have until the end of March to submit their application to become one of the government pilots.