Hundreds of jobs at risk as Yorkshire councils set budgets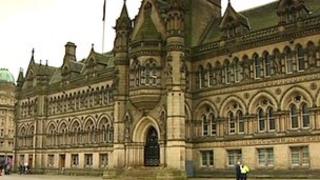 Hundreds of job losses are planned across Yorkshire as four local authorities set their budgets for the next financial year.
About 600 job cuts are likely at Bradford Council as part of proposals to make £29m savings.
Doncaster Council is expected to make 350 redundancies, while about 45 jobs at Barnsley Council will go.
York councillors have ignored government calls and voted to raise council tax by 2.9% in 2012-13.
James Alexander, Labour leader of York City Council, said it was a "difficult decision".
He said: "That is money that is going directly into elderly people's care and children who need to be looked after.
"It is a difficult decision because the government has given this money towards councils freezing council tax but the implications on York would be an even higher council tax increase next year and more cuts."
Changes to pay
The expected redundancies at Bradford, Doncaster and Barnsley council come on top of 600 job losses at Kirklees Council and 200 at Rotherham Council which emerged on Wednesday.
Announcing its budget for 2012-13 at a meeting earlier, Labour-led Barnsley Council said it was seeking to protect the most vulnerable residents in the borough.
It said it would focus on corporate and administrative savings in the coming financial year as it attempted to make £8m in savings.
The council's Labour leader, Stephen Houghton, said he hoped there would be enough volunteers for redundancy to cover most of the 45 jobs at risk.
The council said it had also accepted the government offer of a grant which allows local authorities to freeze council tax, keeping bills at 2010-11 levels.
However, increases in police and fire authority precepts would mean council tax bills in Barnsley would still rise by an average of 0.5%, the council said.
Labour-led Bradford Council was due to vote on a budget which it is believed will target adult and community services and children and young people's services for savings.
Doncaster Council faces making £30m in cuts in the coming financial year.
In January, the council approved plans to cut staff pay by 2.5% and voted through changes to workers' terms and conditions aimed at making £6.2m savings over four years.
After outlining his budget proposals to Doncaster councillors, Peter Davies, the council's elected English Democrat mayor, said there had been "no significant disagreement" over the proposed budget.
A number of amendments from the majority Labour group on Doncaster Council would now be considered by the council's cabinet before the budget was presented for final approval, said Mr Davies.
The minister, Bob Neil, said York Council, which is Labour-led, should accept a government grant to freeze the tax for one year.