'Emily Bronte portrait' expected to fetch thousands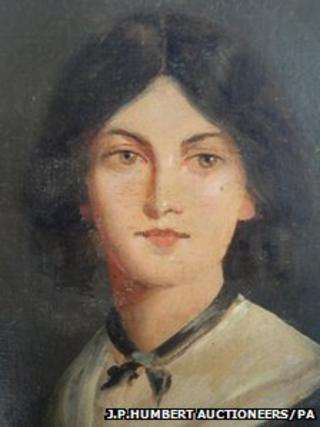 A portrait believed to be of author Emily Bronte is expected to fetch thousands of pounds when it goes under the hammer.
The 33 by 24cm (13in x 9.5in) oil painting is due to be auctioned later in Towcester, Northamptonshire.
Auctioneers JP Humbert said it had attracted international interest after a previous sale of another painting.
The auction house sold that portrait of the reclusive writer for £23,836 in December.
The Bronte family moved to Haworth, West Yorkshire, in 1820 where the Reverend Patrick Bronte was appointed Curate of Haworth.
They lived at the Haworth Parsonage from 1820 to 1861, this is now the Bronte Parsonage Museum.
This latest painting due to be auctioned, which is annotated 'Emily Jane Bronte', was originally estimated to fetch around £3,000 but now has an estimate of between £5,000 and £8,000.
Auctioneer Jonathan Humbert said: "One unknown portrait of Emily Bronte is luck enough but two in two months is quite remarkable.
"This painting is softer and less formal than the previous 'Bonnet Portrait' and importantly, the artist has entitled the painting 'Emily Jane Bronte' on the bottom left-hand-side of the picture at the time of painting.
"We have received interest already from the USA and Canada," added Mr Humbert.
In December an unpublished manuscript by sibling Charlotte Bronte was sold at auction to a Paris museum for a record value of £690,850 at Sotheby's.
The sale set new auction records for a manuscript by Charlotte Bronte and for a literary work by any of the Bronte sisters.
It was bought by Paris museum La Musie des Lettres et Manuscrits.