Train complaint letter from 1912 recalls 'sparks in face danger'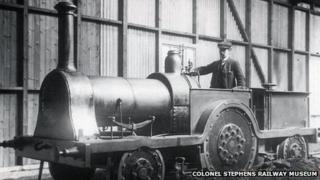 Complaints of delays and overcrowding on trains are all too common in 21st Century Britain.
But sitting behind the engine fire with sparks flying into passengers' faces puts today's irritations into perspective.
A rediscovered complaint letter to the Board of Trade about a journey on the Shropshire and Montgomery Railway 100 years ago recounts just such an experience.
The Reverend Brock says he was in "danger of being blinded" by a spark from the engine's fire.
'Sparks and smuts'
He was travelling from Abbey Gate Station in Shropshire to Criggion, a village in mid Wales just over the border where he was a clergyman at St Michael's Church.
It was when he changed trains in Kinnerley that he realised he would not be on a "properly equipped train" like the one before.
His correspondence was unearthed by researchers at the National Railway Museum in York who are preparing for the railway festival, Railfest.
Mr Brock and his fellow passengers were on a journey led by Gazelle, a standard gauge steam engine with the nickname Coffee Pot.
It is believed to have been the smallest locomotive ever operated on a standard gauge railway in Britain.
In his letter of complaint from 1912, he describes being put into the back part of an engine with a man and two women and only a screen between them and the fire.
He adds there was no roof, writing: "The sparks and smuts falling over us, one spark nearly got in my eye, with danger of being blinded - my clothes too injured by the same."
He continued: "I wish to know whether passengers can thus be treated and deceived for the last time.
"I came about a fortnight ago I was conveyed in a carriage as I have hitherto been."
He also expressed concern for his future personal safety and that of his wife, daughter and friends from London, wanting them to not experience "such risk and barbarous treatment".
Shortly after the letter from Mr Brock was acknowledged, Gazelle was fitted with a cab that would have provided better protection, and a few years later it was fitted with a carriage.
It was in fact an adapted horse tram.
Today in 2012, a coat belonging to Mr Brock and a photograph of him can be found in the Church of St Michael and All Angels, Criggion.