Gloucestershire Cricket Club 'may move to Filton Airfield'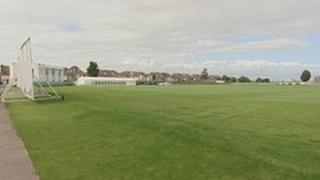 Gloucestershire County Cricket Club has confirmed it is considering a move out of Bristol to Filton Airfield in order to realise its expansion plans.
Last month Bristol City Council refused an application to redevelop the County Ground to continue to attract international cricket to the city.
The club said it remained committed to its plans for the Nevil Road site but was looking at other options.
An appeal against refusal for planning permission will go to a public inquiry.
Club executive Tom Richardson said: "We remain committed to making our current plans for development work at Nevil Road, but as a members' club and a business we have to look to safeguarding our future."
Councillor Brian Allinson from South Gloucestershire Council said: "The submission that we have had from Gloucestershire County Cricket Club is really exciting because any new stadium at this location has the potential to transform access to world class cultural and sporting facilities for both existing and new residents."
'Cold light'
Last month the club captain Alex Gidman wrote on Twitter it was "unbelievable" Bristol City Council had turned the plans down.
The Liberal Democrat-run authority refused the application by six votes to four at a meeting on 11 January.
There were concerns over parking and councillors said not enough was being given back to the community by the club.
At the same time the club indicated a move to Gloucester could be on the cards but added it needed to consider its position "in the cold light of day".
Last April BAE Systems said Bristol's Filton airport would close at the end of 2012 following a review of its commercial and economic viability.
Bristol's main passenger airport, at Lulsgate, North Somerset, is not affected by the decision.