Former Norwich City footballer Leon McKenzie jailed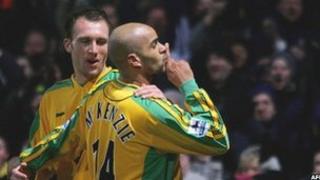 Former Peterborough and Norwich City striker Leon McKenzie has been jailed for sending bogus letters to police in a bid to avoid a driving ban.
McKenzie, 33, of Northampton, was sentenced to six months in prison and disqualified from driving for 18 months at Northampton Crown Court.
He had previously admitted sending the letters to Northamptonshire Police to try to avoid speeding convictions.
Judge Richard Bray said the offence struck at the heart of justice.
'Truly sorry'
"It would send out completely the wrong message if I did not hand out a custodial sentence," he said.
McKenzie, who retired from professional football in December, had also played for Crystal Palace.
He said in a statement posted on Twitter that the incident took place when he was "not in a good place and couldn't always make sense of what was going on".
He said: "My behaviour towards certain things like these speeding offences was totally unacceptable.
"My mindset at the time was confused and not like it is now.
"These offences happened two years ago... I broke the law six times in that two-year period which I am now very aware of.
"I am truly sorry for these offences that I committed. I was not representing the real me back then and realise how stupid I have been."
McKenzie, who said he was suffering from depression at the time, urged others to learn from his mistakes.
"I ask anyone with depression to speak out to someone before you start making any mistakes like I did," he said.