John Suddards and Betty Yates murders: Police given more time to quiz man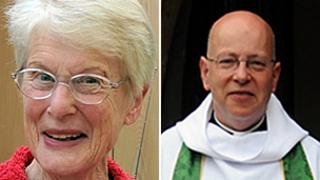 Police have a further 36 hours to question a man over the murders of a vicar in South Gloucestershire and a pensioner in Worcestershire.
Stephen Farrow, 47, was arrested in Folkestone, Kent, on Sunday over the killing of Reverend John Suddards, 59, found dead in Thornbury last Tuesday.
Mr Farrow was later arrested over the death of Betty Yates, 77, who was found at her cottage near Bewdley last month.
Officers now have until early on Wednesday to charge or release him.
Police had launched a nationwide appeal for the suspect on Saturday.
'Formally linked'
He was arrested by Kent Police at about 04:20 GMT on Sunday, by officers acting on a tip-off from the public.
West Mercia Police said they had "formally linked" the murders of Mr Suddards and Mrs Yates.
Det Chief Insp Neil Jamieson said: "We would like to thank Avon and Somerset Police for their help in our investigation.
"We have been working with them to examine similarities between the deaths of Betty Yates and the Reverend John Suddards."
Mrs Yates, a retired teacher, was found stabbed to death at the foot of the stairs in her home on the banks of the River Severn, on 4 January.
She had also been beaten with her walking stick.
A man was arrested on 2 February and questioned by police investigating her death but he was later released on bail.
Mr Suddards was found stabbed to death at his vicarage in Castle Street, last Tuesday.
Police later arrested a 43-year-old man, but on Saturday he was released without charge.
Mr Suddards was a former barrister who joined the clergy 22 years ago after a serious car crash.
He moved to the Thornbury parish six months ago, having served at St Nicolas Church in Witham, Essex, for 10 years and before that at Great Yeldham parish, 20 miles away.