Will negative headlines force U-turn in NHS reforms?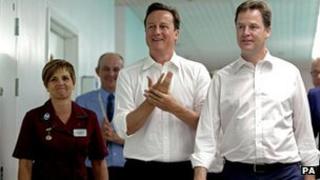 David Cameron and his embattled Health Secretary Andrew Lansley are digging in. They may need to keep their political heads down.
The strident opposition to their planned reforms of the National Health Service is now giving the Tories one of their biggest challenges.
Managing change in any complex organisation is tough.
But the going gets more difficult when budgets are being squeezed to liberate efficiency savings and the headlines are unwelcome.
Damaging headlines?
The latest figures for cancelled hospital operations in the East Midlands are one example.
They reveal that 376 operations were called off at short notice at Leicester's three hospitals between October and December last year.
They are the highest of any NHS Trust in England.
And not far behind are the Nottingham hospitals where 356 operations were cancelled.
They are two of the biggest NHS trusts in the UK with huge demand on critical care beds.
But compare those figures with 78 cancellations at Derby, which is more in line with the national average.
So are there positive NHS headlines in Derby? Not so. Its NHS Trust needs to find savings of £22 million in the next financial year.
So it's asking staff to quit in return for a lump sum.
It's called a "mutually agreed resignation scheme" and is aimed at avoiding compulsory redundancies. That certainly would make for damaging headlines.
Accountability and responsiveness
So it's against this financial background that the biggest changes in the structure of the NHS are being proposed.
Under the plans, consortia of GPs will control the budgets, and commission and purchase health care.
The government says that'll make the NHS more responsive to patient needs.
The Primary Care Trusts and Strategic Health Authorities, that previously did that function, are phased out
In the Leicestershire district of Charnwood and Rushcliffe, near Nottingham, GPs' consortia are already up and running.
Coincidently, both areas have constituencies represented by former health secretaries, Stephen Dorrell and Kenneth Clarke.
Accountability is now ensured through local health boards.
There's one for Nottinghamshire, for example, made up of elected local politicians and GP representatives.
Health Bill
But the NHS reforms are also about offering a bigger role in health care provision by both charities and the private sector.
Circle is a private provider with surgery facilities on the site of Nottingham's Queen's Medical Centre, one of the NHS's biggest hospitals.
It's a development encouraged under New Labour. So why is there so much opposition to the NHS reforms now?
Labour's Graham Allen has been collecting signatures for a mass petition calling for the scrapping of the government's Health Bill.
"We are just wanting to say 'no' to these changes. Mr Cameron and Mr Clegg want to turn our NHS into a free market," said the Nottingham North MP.
"That's not what people voted for. Labour is determined the public are aware of the damage that's being done to the NHS and stop it."
Political surgery
But is he right? All politicians accept there are growing demands on the NHS and that the drugs bill can be eye-watering.
Justice Secretary Ken Clarke has been round this course before. He was Health Secretary in Margaret Thatcher's government and introduced similar reforms.
"The debate now is becoming hysterical," he said.
"We have an ageing population and rising demand. That's why the NHS continues to need reform.
"I think it's a good idea to put clinical input into the commissioning and purchase of services by bringing in the GPs.
"It's also where the mainstream of modern health services are going," he added.
On the NHS reforms, Labour want to "Drop the Bill".
Andrew Lansley is determined to tough it out.
But if a succession of negative NHS headlines continue, his Prime Minister may embark on some political surgery of his own.