Peckforton castle reopens after arson attack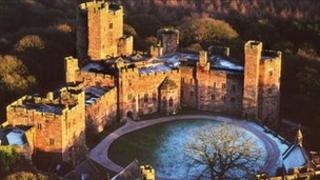 A Grade I-listed 19th Century castle in Cheshire is to reopen eight months after an arson attack caused £6m worth of damage.
The fire at Peckforton Castle Hotel in Tarporley was started by a bridegroom, whose wedding reception was being held there, after a dispute with staff.
Max Kay, 36, from Liverpool, has admitted starting the fire, which led to almost 200 people being evacuated.
Owner Chris Naylor said the family run castle is "back to its former glory".
He said: "When something like this happens it pulls on the heart strings and it is really upsetting.
"The family have found it extremely hard because we've thrown everything into it for the last five years.
"It has been the work of not just myself but Kate (Mr Naylor's wife), my mum and dad and also my two brothers that work for us, Matthew and Daniel.
"The Monday after the fire was our fifth anniversary and it was really from that day on that we said 'no, we are not going to let this beat us and we are going to get on with it'."
The castle was built around 1851 and was bought by the Naylor family in 2006. It has been used as a film set for television series Doctor Who and a television adaption of Robin Hood starring Patrick Bergin and Uma Thurman.
Mr Naylor added: "We've really put our heart and soul into this and to own something as magnificent as Peckforton Castle is a real honour.
"It is incredible that someone could actually do what they did.
"To put not only us through what they have done and damage a building like this, but also the other bride and grooms who were getting married here - its affected their special day, all down to his stupidity and senseless actions."
An entire wing of the castle has been restored and all rooms in the hotel have been deep cleaned and sanitised.
Mr Naylor said: "Floors had to be replaced, the walls have had to be stripped back to the sandstone.
"The damage was pretty extensive because its not just fire we are talking about, there was the water damage from the fire brigade trying to deal with the fire and the smoke which got pretty much everywhere in the castle.
"The way the team at the castle and everyone concerned has pulled together and work to achieve today is absolutely fantastic."
"It's unbelievable that it is back to its former glory only eight months after the fire."
The castle will reopen with a relaunch party on 16 February.
Kay will appear at Chester Crown court for sentencing on 13 March.