West Midlands Police service 'improved' despite cuts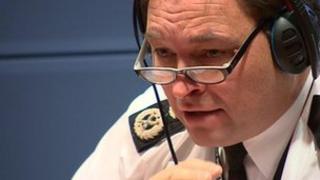 The chief constable of the West Midlands says customer satisfaction with the force has been rising in the face of cut backs.
The force will lose funding worth £125m over four years and plans to lose 1,100 out of 8,000 serving officers.
However, Chief Constable Chris Sims said crime was down 9.5% in 2011, compared to 2010.
A West Midlands Police Federation spokesman did not dispute Mr Sims' claim but urged caution over it.
Mr Sims said the force's biggest expenditure is on staff costs, so to meet budget cuts he had to restructure.
"There has been an improvement in our customer service that's been achieved while we have been making these significant changes," he explained.
Reputation 'at risk'
The changes include temporarily moving some officers into policing support roles, such as answering incoming 999 calls.
He said call centres had been reduced from 21 to 10 and would be reduced again to "a lower number".
Mr Sims said he expected to lose 2,700 staff in total, including 1,100 police officers and 1,500 police support staff.
Federation chairman, Ian Edwards, questioned whether there would be the same customer satisfaction in four years.
Mr Edwards said: "Whether that trend continues remains to be seen."
He added he was worried further reductions in frontline officers would damage the force's reputation in the community it serves, although he did accept some restructuring was necessary.