West Mercia Police cuts station opening hours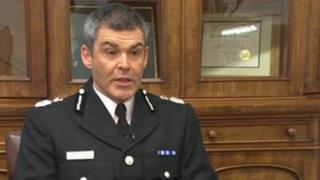 Police station opening hours are to be cut across Shropshire, Herefordshire and Worcestershire.
A total of 31 West Mercia stations will be affected, under plans approved by the police authority on Tuesday.
Chief Constable David Shaw said there were no proposals to scrap any stations, despite the force needing to make £38m budget savings.
The reduced opening hours will affect station front desks where the public can report crimes.
In Hereford, Shrewsbury and Telford front counter openings will be cut by 20 hours a week.
Mr Shaw said: "All we're trying to do is have them open at the times and places where it's really needed.
"A few years ago we didn't have mobiles, Tweeting, or the 101 number. So there are lots of different ways for the public to contact us."
He added members of the public could contact the police 24 hours a day, but admitted front counters were a visible sign of policing in communities.