Wildlife recorders: Bingo conservationists?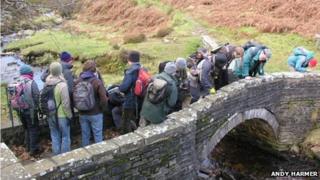 Reports that a killer whale had been sighted off the Norfolk coast generated a huge amount of interest on Tuesday.
The sighting was made by birdwatchers whose field notes and sketches are now being collated to pass on to wildlife recorders to confirm the whale's identity.
But what makes people across the UK give up their free time to record wildlife?
Is the hobby made up of "bingo conservationists" or passionate environmentalists dedicated to protecting the species they love?
Eric Fletcher says he would struggle to "put a cost" on the records submitted by volunteers to RECORD - the biological records centre for Cheshire, Halton, Warrington and Wirral.
Data on wildlife from all over Cheshire comes into the centre to be validated, stored and accessed by everyone from local authorities to developers.
Mr Fletcher, who manages RECORD and is also a director for the Association of Local Environmental Records Centres, said: "Our work relies so heavily on volunteer assistance."
Trainspotting nature
He said information could come from amateur naturalists or environmental consultants but in both cases there was no pressure on them to share their findings with a wider public.
He said: "In that respect they're all volunteers because they volunteer their data."
But he said data from "amateur naturalists" made up between 60 and 80% of all the records they received.
He said: "These are recorders who go out and record local wildlife sites."
He said people tended to record wildlife for two reasons. "It's enjoyment for a lot of people but the other major aspect of recording is it's important for conservation," he said.
"Their passion is wildlife and they want to make sure it's there to see again."
Tim Corner manages Bristol Regional Environmental Records Centre which stores ecological and geological data from the west of England.
He says there are two types of amateur recorders. "There are different motivations. Some people write down what they see in a similar way to trainspotting but others record things because they are keen for someone else to know about it.
"Some people just record as a hobby but other people do it because they are passionate about wildlife and they think by making records available to others they can protect those things [that they are passionate about]."
Andy Harmer agrees some people record things for the sake of writing them down, but that does not necessarily lead to valuable data.
He said: "You do get bingo conservation, where people see how many [animals or plants] they can see but that is not as valuable as working out habitat requirements."
He helped set up the Cheshire Active Naturalists club two years ago.
"We felt like we were becoming an elderly society of recorders that weren't managing to pull the next generation in", he said.
The group currently has about 90 members and organises up to 15 events a year including talks and field trips.
Victorian entertainment
He said people were often surprised when they heard about his hobby.
"People find it quite strange," he said.
"In Victorian times before TV and radio, entertainment was mainly outdoor.
"Joe public was able to name flowers, mammals and most of the birds. Everyone would have an interest in outdoor pursuits.
"We tend to have a lot more interests now and when people encounter something they can't relate to they think it's a bit odd."
In his day job Mr Harmer is an ecologist but he freely admits that while he might spend the week inspecting ponds as part of his work, he will happily do the same at weekends for fun.
But wildlife recording does not mean volunteers have to spend hours outside watching for signs of life.
Sarah Dolman is head of policy in Scotland for the Whale and Dolphin Conservation Society.
The society runs a volunteer whale spotting programme in Scotland called Shorewatch where people are asked to spend a few minutes watching from a set site whenever they have free time.
She said: "We're really flexible and only ask them to watch for 10 minutes.
"At the weekend we saw killer whales off Lewis and we've also seen common dolphins and fin whales.
"We have a network around the UK as well as Shorewatch which is a Scottish project.
"Volunteer recorders are really important - we can't be everywhere. We're quite a small organisation so we rely on local community groups."