Patients happy with James Paget Hospital after criticisms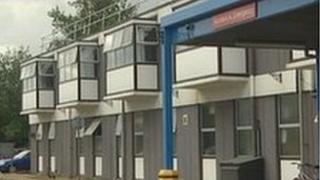 A Norfolk hospital criticised as "failing" at the end of last year has received high scores in a survey of patient satisfaction by watchdog the Care Quality Commission (CQC).
The James Paget Hospital in Gorleston faced criticism from MPs last November and the CQC had concerns about its treatment of elderly patients.
But patient's rated the hospital nine out of 10 for having clean wards.
High numbers of patients were also satisfied with care provided.
Nine out of 10 patients had trust and confidence in the doctors at the hospital which serves Norfolk and Suffolk, while 8.8 out of nine felt they had been listened to by doctors.
'Learn from patients'
However, only 2.4 out of 10 patients were satisfied with the way they were told about delays in appointments and only 2.5 out of 10 were happy with the way they received letters sent between hospital doctors and their GP.
Hospital chief executive, Wendy Slaney, said: "The CQC out-patient survey does show high levels of patient satisfaction and we're especially pleased that privacy and respect scored so highly.
"It's important to learn from our patients and that is why these surveys are so important. For example, this year's survey does show that we need to improve on communications with patients about how long they might have to wait in clinic."
Last year, the CQC highlighted problems with nutrition at the hospital during an inspection of care for the elderly and concerns were raised by Suffolk Coastal MP Therese Coffey.