Epsom and St Helier NHS: Hospital merger to continue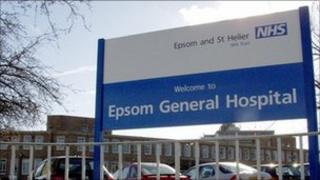 Plans by Epsom and St Helier NHS to merge hospitals in Surrey will continue after another merger in London hit a setback, health chiefs have said.
Ashford and St Peter's NHS in Surrey is due to merge with Epsom Hospital but St George's in London has pulled out of a merger with St Helier hospital.
The trust said it would look for other options for St Helier after St George's said last month it could not go ahead.
NHS chiefs said the Surrey merger would continue, subject to NHS approval.
St George's Healthcare NHS Trust withdrew the bid because of financial challenges.
'Best way forward'
Matthew Hopkins, chief executive of Epsom and St Helier NHS said a number of options for St Helier would be explored in more detail by July.
"We were obviously disappointed that St George's withdrew their bid," he said.
"However, our focus now is to find a new solution for St Helier and, working with our doctors, nurses and other colleagues, we will examine the different options with a view to finding the best way forward for our patients, local people and staff."
Jon Sargeant, who is leading the demerger work, said that while the future of St Helier was still to be confirmed, it was agreed by the transaction board it remained in the best interests of patients, local people and staff to continue with the Epsom merger.
The merger process came about because Epsom NHS has been deemed unable to achieve foundation trust status in its current form.