Man accused of abusing child on Cunard cruise ship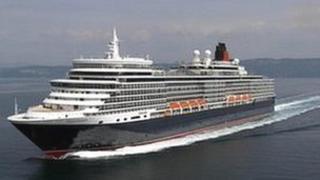 A former luxury cruise ship employee has been charged with sexually assaulting a child aged under 13 and possessing indecent images of children.
Paul Trotter, 34, of Pontefract, West Yorkshire, is alleged to have abused the child when working as a children's activity supervisor for Cunard.
He was remanded in custody by Chippenham magistrates, in Wiltshire, on Monday.
He is due to appear via video link at Swindon Magistrates' Court on Thursday.
The offences are alleged to have taken place between December 2010 and January 2011.
Mr Trotter was initially arrested in August when living in Salisbury. He is no longer employed by Cunard and has since moved to Doncaster Road Estate in Pontefract.
A spokesman for Wiltshire Police said officers were contacting all of the parents they needed to speak to in relation to the investigation.
Concerned parents have been asked to seek advice from the NSPCC.
Cunard operates the Queen Mary 2, the Queen Victoria and Queen Elizabeth cruise liners.