WWI letter found in Hastings reveals Kent man's heroism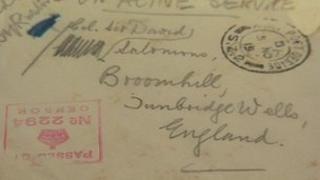 It was 1915 when the World War I vessel HMS Hythe sank in Turkey while on operations.
And a letter recently uncovered by a historian, who stumbled across it in a militaria shop in Hastings, Sussex, details the bravery of the ship's captain.
The document describes how Capt Reggie Salomons, from Kent, died while trying to save his men.
The letter from an eyewitness to Col Sir David Lionel Salomons, a wealthy baronet from Tunbridge Wells, explains how the colonel's only son refused to leave a sinking ship.
"At the beginning, the two vessels clung to each other for a few minutes and about 50 men and several officers scrambled across on to the other vessel," wrote witness Maj Alfred Ruston, who was onboard HMS Hythe at the time.
"But though Captain Salomons was warned to get over also himself, he would not do so and I am sure that it was because he would see his beloved men off first."
Historian Andy Saunders, who found the letter, said a total of 128 men from Kent drowned in the incident. Most could not swim.
Mr Saunders said Capt Salomons would have been in his 30s when HMS Hythe sank during the Gallipoli campaign.
Capt Salomons was part of a regiment of engineers made up mostly of men from the Southborough and Tunbridge Wells area.
The letter is now due to go to a museum in Southborough which celebrates the Salomons family.
'Astonishing story'
Mr Saunders said that when he found the letter, he looked at the handwritten envelope addressed to Broomhill, Tunbridge Wells, and the name on the front - David Salomons - rang a bell.
"I suddenly thought, 'there's a place called David Salomons house in Tunbridge Wells', so I immediately did a bit of research and discovered a completely astonishing story," he said.
Mr Saunders said HMS Hythe had collided with a much bigger Royal Navy ship in darkness, and sank within minutes.
Many hundreds of soldiers on board were from the Southborough regiment, he added.
"The majority of those that died were unable to swim and they didn't have life jackets," he added.
"Reggie Salomons did and he gave his jacket to another man - but sadly there were 128 local men who drowned on that night."
Mr Saunders said the letter was "an amazing testimony of a very brave man".
The document will go on display at the Salomons museum, run by Canterbury Christ Church University.
The museum in the family's former home, which used to be called Broomhill, celebrates the lives of Sir David Salomons, the first Jewish Lord Mayor of London and a founder of the London and Westminster Bank, his nephew, Sir David Lionel Salomons, a scientist and engineer and a pioneer of road transport, and his son David Reginald Salomons.