Ex-Hollyoaks actor pleas for black and Asian donors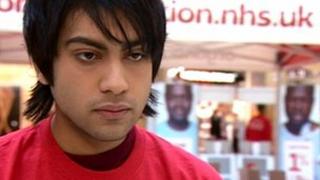 An actor has been urging more black and Asian people to sign up to the organ donor register at a Leicester event.
Ex-Hollyoaks actor Sikander Malik, from Nottingham, said it was vital because there was a shortage of donors from ethnic minorities in the East Midlands.
More than 600 patients from these communities in the region were waiting for organ transplant, according to the National Health Service (NHS).
Only 1.4% of Asians and 0.4% of black people are registered organ donors.
Mr Malik, who played Jamil Fadel in the TV soap, said it was a campaign that was personal to him because a close friend had needed an organ transplant a few years ago.
"There is a lack of Asian and black donors out there... and they're waiting much longer than anybody else for an organ transplant," he said.
"If you're a patient from an ethnic background you need an organ from a similar a community, otherwise it could be rejected."
Sara Bagshaw, a specialist nurse in organ donation, said: "People from the black and Asian communities are three times more likely to need an organ transplant than the rest of the population, but less than 2% have formally recorded their wishes by joining."
'Life planned'
Arpandeep Sandhu, 27, from Derby, has been on the waiting list for a kidney transplant since January 2006.
She was told that until a donor kidney became available she would face regular dialysis to keep her alive.
"I'm in for dialysis three times a week... being on dialysis means that everything in my life has to be planned down to the smallest detail," she said.
Mr Malik added that he was appealing to people from all backgrounds to register to donate their organs to potentially save lives.
The NHS said one donor can save or transform up to nine lives and many more can be helped through the donation of tissues.