Protests grow as planning changes 'threaten' Green Belt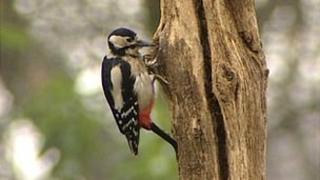 The government says its reform of the planning system is all about handing more power to the people.
But try telling that to campaigners in Tyneside who believe the changes are unleashing plans to build thousands of homes across the area's Green Belt.
This weekend a group will march through Newcastle's Green Belt land to highlight their opposition to the plans.
Urban refuges
I went to visit some of the protesters at one of the proposed housing sites causing controversy.
Gosforth Park Nature Reserve has been protected by local volunteers for decades, providing an urban refuge for the red squirrel, roe deer and a host of birds.
It's an amazing place. You can walk through ancient woodland and stroll next to a huge reed bed having close encounters with everything from woodpeckers to weasels.
But the council's master plan for new homes will put hundreds of houses in neighbouring fields.
The people who love the reserve think that will endanger many of its inhabitants.
They say the wildlife relies on the fields as a buffer zone, and use it to forage for food.
If the fields get concreted over, they fear some animals will struggle to survive, and that's even before the pets of their new neighbours find their way into the reserve.
James Littlewood, from the Natural History Society of Northumbria, said: "We would have the impact of 1,500 people and their cats and dogs coming into the reserve.
"We estimate over a 10 year period, cats from the housing development could kill 15,000 animals and birds.
"That would be devastating."
People's rights
They also feel the council has done very little to take local views into account, as they had to push the local authority into extending the original consultation.
And local resident and Save Gosforth Wildlife campaigner John Urquhart certainly doesn't feel empowered.
He said: "It's not just about the wildlife, it's about democracy, about people's rights to say what they really feel about their area."
But it won't just be the reserve campaigners marching. Similar campaigns have sprung up across other parts of Newcastle which are under threat.
There are plans to build 6,500 homes on one slice of the Green Belt on the western edge of Newcastle.
At the moment the area is semi-rural, but the existing villages are likely to become subsumed by the city as the fields near their homes become building sites.
Adam Vaughan from the Newcastle West Green Belt Protection Campaign said: "These are villages that have become part of Newcastle purely by an accident of boundaries. Now they could find themselves becoming part of a suburb.
"It will have a big impact on people's lives."
MPs' support
The campaigners have achieved something though. They've won support from both Labour and Conservative MPs.
Newcastle North's Labour MP Catherine McKinnell has already submitted her objections to the plan.
She said: "My main concern is the number of houses being proposed at a time when we could well be back in recession.
"My fear is we'll end up with the countryside replaced by houses that nobody might want.
And Conservative Guy Opperman is also opposed to the plans as many of the homes would be on the edge of his Hexham constituency.
He said: "I cannot understand why Newcastle Council isn't building on brown field sites, regenerating old sites and filling empty homes, instead of carpeting over green fields with executive homes that aren't needed."
With so much opposition, will the council stick to its guns?
We'll find out when Newcastle's Cabinet meets at the end of the month.
But the council insists it needs to find places to build new homes to meet the demand for houses from local families.
Planning reforms
The council also says around three quarters of the 36,000 homes planned across Gateshead and Newcastle in the next 20 years will be outside the Green Belt.
And the councillor in charge or the plan Cllr Henri Murison, says it had to come up with a plan because of the government's reforms.
It fears without a realistic blueprint, it will be hard to prevent housing developers targeting multiple sites.
The government's is keen to see planners make a presumption in favour of development when considering any application, to help get the economy going.
At the same time it's also removing incentives that pushed developers towards brown field sites rather than the Green Belt.
The government says it's up to councils how to implement that guidance.
But the people who try and protect the environment believe the game has changed.
The Northumberland Wildlife Trust says it's having to fight to save slices of countryside it thought would never be under threat.
Mike Pratt, said: "It's opened up battles we thought we'd won a long time ago. Even the status of established nature reserves are being challenged."
Clashes ahead?
Remarkably, these protests come even before the government's new National Planning Policy Framework has passed into law, so there could be a lot more tension ahead.
Local authorities always want more homes because it helps to boost the local economy and council tax receipts.
And environmental campaigners are concerned they will be competing to tempt in housing developers by offering attractive green field sites.
There may then be many more marches and campaigns ahead in years to come as the demand for more houses clashes with the desire to protect our green spaces.