Bali bike crash man Richard Plummer becomes a father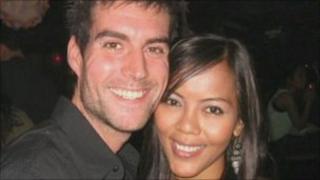 A man who was flown home from Bali in a coma after a motorbike accident has become a father.
Richard Plummer, 32, who was critically hurt in the crash, arrived back in the UK in July after his parents borrowed £80,000 to pay for an air ambulance.
He regained consciousness in August and is said to be making a good recovery at a rehabilitation unit in Sevenoaks.
His girlfriend Indri gave birth to a girl called Tiana on Sunday evening, according to Mr Plummer's father Eric.
The baby has been named after an Australian woman who found Mr Plummer following the accident.
'His little angel'
Mr Plummer Sr said: "We are absolutely over the moon, happy as anything.
"Everything went so well. We just couldn't have envisaged this was going to happen a few months ago.
"Richard just said he is besotted with the baby and he calls her his 'little angel'."
Mr Plummer, 75, added: "The person who found Richard after the accident, who called the ambulance and called us to give us the bad news and then stayed with Indri at the hospital was an Australian girl called Tiana.
"She is named after her because she was the first link in saving Richard's life."
Mr Plummer, who lives in Maidstone, said his son still did not have proper use of his right side but was continuing to make good progress and was able to go to the hospital for the birth.
He and his wife June spent their £20,000 life savings to pay for care for their son, who had not renewed his travel insurance.
A private benefactor, who wished to remain anonymous, agreed to lend the family £80,000 to cover the cost of the air ambulance. Fundraising events were held to help pay it back.
Richard Plummer had been living in Bali since 2009.
His family feared he might die if he could not be flown home to a hospital with suitable facilities.