Kent and Essex men jailed over £50m drink fraud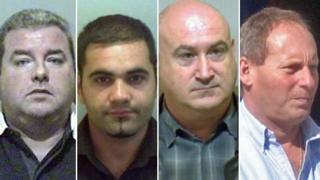 Four men have been jailed for their part in a £50m a year alcohol tax evasion scam.
Kevin Burrage, 49, of Essex, was jailed for 10 years for conspiracy to cheat the public revenue, and Gary Clarke, 55, also of Essex, for six years and nine months.
Michael Turner, 52, of Kent, received three years and two months and Davinder Dhaliwal, 32, of Kent, 16 months.
The men arranged for lorry loads of alcohol to be smuggled into the UK.
Canterbury Crown Court heard the men used Burrage's chain of bonded warehouses as a front.
The bonded warehouse system allows licensed traders to import and export alcohol under "duty suspension", the taxes and duty only becoming payable when the drinks are delivered to market.
Paperwork was falsified to create duplicate shipments and "ghost" lorries were created to lay a false trail of bogus trading.
'Serious attack'
Following a covert surveillance operation, the gang was arrested in a series of dawn raids by HM Revenue and Customs (HMRC) officers in November 2008.
Burrage, of Ravendale Way, Shoeburyness, was banned from being a company director for 12 years.
Turner, of Rendezvous Street, Folkestone, and Dhaliwal, of Langdale Gardens, Dartford, were also convicted of fraudulent evasion of excise duty.
During sentencing Judge Michael O'Sullivan said: ''All four of you were involved in a criminal enterprise to cheat the revenue. Alcohol was diverted in the UK without paying duty or tax due to the revenue.''
According to the HMRC the fraud would have amassed an estimated £50m a year in unpaid duty and VAT.
Martin Brown, assistant director of criminal investigation at HMRC said: "This gang was interested in nothing further than lining their own pockets at the expense of honest taxpayers.
"We will not stand by and let criminals rip off the law abiding public."