East Anglia One wind farm cable corridor revealed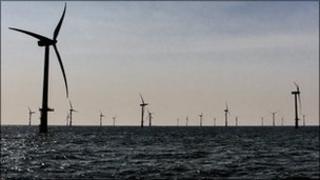 The inland cabling route from the first part of a multimillion-pound offshore wind farm project in East Anglia has been put out to public consultation.
Developers said cabling for the East Anglia One wind farm off the Suffolk coast would start near the River Deben at Felixstowe and run north of Ipswich.
A new converter station next to the site at Bramford would then collect the energy to put on to the national grid.
The plans are up for consultation in Suffolk and Norfolk.
People have until 30 March to air their views.
The cabling route forms part of the Preliminary Environmental Information Report (PEIR), released by the East Anglia Offshore Windfarm Zone's developers, Scottish Power Renewables and Vattenfall.
The document also details findings from technological and environmental surveys on the site of East Anglia One - the first of six wind farms which are planned to be built 14km (9 miles) out to sea.
'Very, very careful'
Libraries in Suffolk and Norfolk are holding copies of the report.
Members from the wind farm development team will be answering questions as part of the consultation, in Lowestoft, Woodbridge, Bramford and Felixstowe, between 20 and 23 February.
Derek Christie from the company said he expected some people to raise concerns about the proposals, including the route of underground cabling, but said the firm had been "very, very careful" to plan it away from people's homes and any areas that would create major disruption.
He said people in Norfolk would also be interested in the consultation, with Great Yarmouth's harbour expected to be a hub for the building of the wind farm zone.
Construction on East Anglia One is expected to begin in 2015, with a completion date of 2018.
Mr Christie said it could have between 200 and 600 turbines.
The full East Anglia Offshore Windfarm Zone, when built, is expected to power five million homes, developers said.