'Shocking' toll of prison remand deaths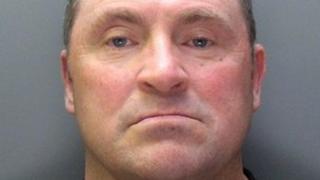 A lodger accused of a double murder has been found hanged in prison two weeks after a man in a separate double murder case was found hanged in his cell.
Both men were on remand at the time of their deaths.
Last year, more than 40% of people who killed themselves in prison were on remand, according to The Howard League for Penal Reform.
But why do so many prisoners on remand take their lives and is it possible to prevent suicide if someone is determined to take their own life?
'Shocking death toll'
Frances Crook, the chief executive of the charity, which campaigns on a range of issues to do with prisons and community safety, said: "We have seen 30 deaths in January - nearly one person a day dying in custody.
"This number of deaths in one month is unprecedented. Prisoners are owed a duty of care by Her Majesty's Prison Service. The present death toll is shocking.
"The people who fill our prisons do so often because of state failure - the child who dropped out of school, the child who was abused at home and the woman who was left homeless and addicted to drugs."
Of the 30 people to have died in custody in January, 13 deaths were thought to be suicides - three by people on remand and one who was awaiting sentence. In January 2010 there were 11 deaths in custody, one of which was a suicide by someone awaiting sentence.
The charity is concerned about remand prisoners being held in "overcrowded and over-stretched" local prisons.
Lithuanian Rimvydas Liorancas, 37, of Booth Street, Winson Green, Birmingham, was charged with murdering Avtar and Carole Kolar at their Handsworth Wood home on 11 January.
He was found hanged in his cell in Woodhill jail in Milton Keynes on 28 January.
According to the Ministry of Justice, all prisoners are assessed on a case-by-case basis as to whether they are at risk of suicide or self harm.
Those who are thought to be at risk are made the subject of an "open suicide and self-harm document", meaning they will be regularly checked by prison officers.
It is understood Mr Liorancas was not the subject of a document at the time of his death.
Barry Morrow, 52, was a lodger accused of murdering his landlady Angela Holgate, 54, and her mother, Alice Huyton, 75, in Merseyside on 3 December.
He was awaiting trial when he was found hanged in his cell at HMP Manchester on Thursday afternoon.
The Prison Service has not commented on whether or not he was the subject of a document.
A spokeswoman for the service said all deaths in custody were investigated by independent body the Prisons and Probation Ombudsman, while suicides in prison are also examined by an inquest.
One of the most famous cases of a suicide while on remand is that of Gloucestershire serial killer Fred West.
He was charged with 12 murders in 1994 and is suspected of torturing, raping and murdering an unknown number of women over a 20-year period but took his own life in Birmingham's Winson Green prison before his trial.
His death led to many in the media claiming he had escaped justice.
The impact of a prisoner's suicide on those affected by crime is something the charity Victim Support is concerned about.
Javed Khan, chief executive of Victim Support, said: "News that an offender or person on remand has committed suicide is bound to have a strong emotional impact on the victims.
"Some victims will feel cheated of justice, others left wondering if the person on remand was responsible or not. It's vital in situations like this that the authorities keep the victims of the crime informed - or the families left behind in the case of murder - and that they make contact sensitively."
In 2010, half of all self-inflicted deaths in prisons were by people held on remand, despite the fact they only made up 18% of the prison population, research by the Prison Reform Trust found.
But Juliet Lyon, the trust's director, said a lot of positive work had been done to reduce incidents of self harm and suicide.
She said: "The number of suicides is dropping, which is in large part due to safer custody work by the Prison Service, which works to identify risks and improve staff training and response.
"I would be concerned if those improvements were rolled back by new pressures."
She said government cuts could be a problem if it lead to a reduction in contact time between staff and prisoners, which she said was "essential" to identify any potential risks.
With the prison population recently at a record high, many are concerned about these pressures on the service and how it will deal with prisoners' mental health issues to prevent more suicides in the future.