Dry winter brings warnings of South East hosepipe bans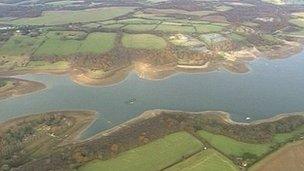 Warnings of hosepipe bans this year have come from two water firms as South East reservoir levels remain low.
Sutton and East Surrey Water said the likelihood of restrictions later this year was growing stronger by the day.
South East Water said aquifer levels were near "severe" status, restrictions could not be ruled out, and people should "prepare for a dry summer".
Southern Water said all its reservoir levels were low after the driest 12 months since 1976.
All three companies have urged their customers to reduce demand for water.
The three water suppliers take water supplies from boreholes, or underground aquifers, and surface reservoirs.
They all said recent snow had not helped because it took of one ft (30cm) of snow to produce an inch (2.5cm) of water, and frozen ground also made it difficult for water to seep into underground stores.
Sutton and East Surrey Water's operations director Mike Hegarty said: "Our resource situation is serious because so far we have not received enough rain in the 'recharge' period to replenish the aquifers from which we draw most of our water.
"Restrictions are not currently necessary but the longer this situation continues the more likely we are to have to introduce constraints such as a hosepipe ban later in the year."
Sutton and East Surrey said 30% above average rainfall in February and March would be needed for groundwater to reach average levels.
The company's Bough Beech reservoir is 74% full - 15% below average.
Southern Water said three months of average rainfall were required if resources were to recover in time for summer.
Bewl Water reservoir, which serves Medway, Thanet and Hastings in East Sussex, remained well below average, it said.
Ardingly reservoir was 42% full, but Arlington reservoir was at 75% because of water taken from the River Cuckmere, according to latest statistics from South East Water.
South East Water also said its aquifers in Sussex and Kent were still showing no signs of refilling.
Related Internet Links
The BBC is not responsible for the content of external sites.