West Midlands frontline police 'filling back office jobs'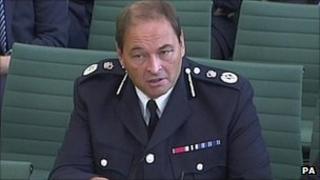 The head of West Midlands Police has admitted some officers have moved from the front line to back office jobs.
Chief Constable Chris Sims said a "very small number" of the force's 7,000 officers had been redeployed as a "temporary measure".
Jack Dromey, Labour MP for Erdington, told the Commons 32 officers had been redeployed, but the Police Federation believe about 100 staff are involved.
Mr Sims said the ultimate aim was serving the public better.
The chief constable did not say how many officers were involved but said it was part of the process "to make the organisation fit to operate in a reduced budget".
The force has to save £126m over four years.
'Gaping holes'
Mr Sims said: "To buy us some time during the period of change, we have had to take a few officers into help us.
"But it's a temporary measure and it's about, ultimately, serving the public better."
Mr Sims said the force should be judged on what it was achieving - and crime had fallen by 9.5% and burglary by 18%.
"I don't like this frontline distinction," he said.
"We are cutting crime faster than we have cut crime before, we are delivering a frontline service in a different way - and that's my priority."
He said the officers had been moved to make sure "critical services were maintained" and they were doing duties such as answering 999 calls.
"If that's back office, that's back office," he said.
'Cutting bureaucracy'
But Mr Dromey said highly-trained officers were being used to fill "gaping holes" in police support.
"By cutting 16,200 police officers, David Cameron has abandoned the first duty of any government, the safety and security of our communities," he said.
"And, despite repeated assurances from Theresa May highly-trained Bobbies are being taking off the beat into the back room."
A Home Office spokesperson said: "As the independent inspectorate of constabulary has made clear, the proportion of the police workforce on the frontline is in fact increasing.
"With some 25,000 officers and PCSOs in backroom posts, there is plenty of scope to make savings while protecting the frontline policing.
"And by cutting bureaucracy we are releasing the equivalent of 1,500 officers onto the beat."