Killed Red Cap Paul Long's mother's pain 'never ending'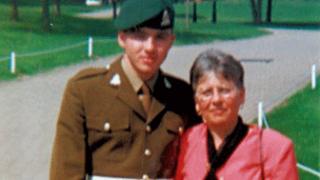 Pat Long was sitting on the bus surrounded by strangers, when the call she dreaded most of all came through.
Her beloved son military policeman Paul, was dead at the age of 24, shot through the head after being attacked by a mob during his first tour of duty in Iraq in 2003.
"I was on my way home after shopping with my mam. Just a normal day when I got the call. I just went into shock.
"A lady took my phone off me and the driver actually drove me home," recalls Pat.
That was almost nine years ago, but for the 60-year-old, of Hebburn, South Tyneside, the pain of his loss has not lessened.
"The last conversation we ever had was a few days before he died. It was 10 minutes long and all we kept saying to each other was: 'I love you, I love you too - over and over again," she said.
An excited Cpl Long, 24, married for only a few months with a baby son, left for Iraq on Valentine's Day 2003.
He and his fellow Red Caps had been training local Iraqi officers police station in Majar al-Kabir, Maysan, southern Iraq, when it came under attack on 24 June by a mob of around 400.
Lack of evidence
During a trial in 2010 of two Iraqis accused of the murders, which lasted less than two hours, the court heard that many of the mob were masked and carrying guns.
Witnesses told the hearing in Iraq that the crowd was angry after a patrol of British paratroopers clashed with townspeople and opened fire, killing at least three and wounding others.
The Red Caps were chased into the police station and shot, but witnesses said they did not see who shot them and the accused were acquitted due to lack of evidence.
According to some reports the officers had been playing football with the Iraqi police officers before the attack.
The Red Caps who died with Cpl Long were L/Cpl Benjamin Hyde, of Northallerton, North Yorkshire; Sgt Simon Hamilton-Jewell, 41, of Chessington, Surrey; Cpl Russell Aston, 30 of Swadlincote, Derbyshire; L/Cpl Tom Keys, 20, from Bala, North Wales; and Cpl Simon Miller, 21, of Washington in Tyne and Wear.
They were all from 156 Provost Company, based at Goojerat Barracks in Colchester, Essex.
"Paul died inside the police station - he had gunshot wounds to his hands from when he had held them up to try and protect himself. I still find it hard talking about it," Mrs Long said.
A number of inquiries have been held into what happened.
But Mrs Long claims they were "inadequate" and has called for a Ministry of Defence (MoD) public inquiry.
Unlawful killing
The case has been taken up by Birmingham-based Public Interest Lawyers, who have written to Defence Secretary Philip Hammond calling for a fresh hearing.
Mrs Long said she was fighting the case for all the families who had lost their loved ones.
An inquest into the deaths in 2006 heard that the soldiers did not have sufficient ammunition or satellite telephones to call for help.
But Oxfordshire coroner Nicholas Gardiner, who recorded a narrative verdict of unlawful killing, said he did not think their deaths could have been avoided.
However, Mrs Long wants to know how six soldiers were able to be killed by a mob without being helped.
Mrs Long said she found comfort from her two other children Bryon, 28, and Maria, 38, and that she kept in touch with Sgt Simon Hamilton-Jewell's brother Tony.
"I don't understand what people mean when they talk about closure. I will never get over this. I try to live my life and be cheerful, I like to go for walks and do my garden and keep busy.
"It makes me smile thinking of Paul - he was rarely down and always fun, doing silly little dances. He was a jolly lad and his memory keeps us going.
"Paul is always in my heart - all my children are - he is the first thing I think about when I wake up and last thing at night."
Byron had considered a career in the Army but abandoned his plans when his brother was killed.
The former call centre worker, who is currently unemployed, said: "Paul loved the Army, he lived for it. He had only been in for four years.
"We just don't know what happened. We believe there was a lack of ammo for the soldiers and a lack of communication. The very people who are protecting this country are not being protected themselves.
"When the bodies were found they did not have any money, weapons or personal items on them, we don't even know if my brother was buried with his wedding ring."
An MoD spokeswoman, said the Army's thoughts were with the families, and it was considering the new inquiry application.