Milly Dowler murder: Levi Bellfield appeal bid rejected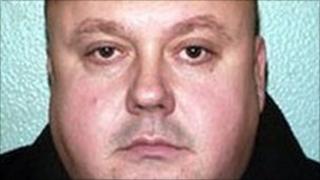 Milly Dowler's killer has been refused permission to appeal against his conviction for her kidnap and murder.
Levi Bellfield was given a whole-life jail term last year after being found guilty of abducting and killing Milly.
The 13-year-old disappeared in March 2002, as she walked home in Walton-on-Thames, Surrey.
Bellfield's appeal bid was heard by the Lord Chief Justice, Lord Judge, Mr Justice Wyn Williams and Mr Justice Maddison.
The 43-year-old former bouncer, was already serving a whole-life term for the murders of Amelie Delagrange and Marsha McDonnell, and the attempted murder of Kate Sheedy, when he went on trial at the Old Bailey last year.
'Clear conclusion'
In June 2011, jurors heard he carried out the murders by striking his victims on the head with a blunt instrument and tried to murder Ms Sheedy by deliberately running over her in a car.
The court was told the offences bore "similarity in many respects" to Milly's murder.
The single ground of appeal heard on Wednesday was a complaint about the trial judge's decision to allow evidence of those previous convictions to go before the jury.
Jeffrey Samuels QC said the overall effect had been to "distort" the focus of the evidence against Bellfield in relation to the kidnap and murder of Milly.
But Lord Judge said the court had reached the "clear conclusion" that there was no basis for finding that the decision of the trial judge had been wrong.
He said that, without reference to the previous convictions, there was "ample" evidence for the jury to consider whether Bellfield had killed Milly.
Milly's remains were found in Hampshire six months after she disappeared.
She was identified by dental records but the cause of her death could not be determined because of the length of time that had passed.
Last year, lawyers acting for Bellfield said they had been instructed to seek compensation for personal injury after he was attacked by a fellow prisoner with a "makeshift weapon".
Bellfield said he had suffered cuts in the incident at Wakefield Prison in West Yorkshire in 2010.