On thin ice: Pedestrians' problems with pavements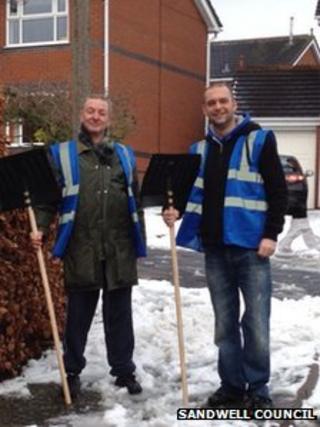 As snow fell across England at the weekend, motorists were warned to make journeys with care. Gritters and snowploughs took to the roads to minimise the risks but on the country's pavements it was a different story.
Pedestrians shuffled along through the snow and ice trying to avoid a fall while some took to walking on the already-treated roads.
Emergency hospital admissions in England for falls on snow and ice cost the NHS £42,318,960 in the winter of 2009/10, according to a report by the North West Public Health Observatory.
Living Streets, which campaigns on behalf of pedestrians in the UK, has launched a campaign to get councils to pledge to keep pavements safe. But why are pavements not treated the same as roads in bad weather?
The charity is particularly concerned about the effect icy pavements can have on older or disabled people and has joined up with two other charities - Leonard Cheshire Disability, which campaigns on rights for disabled people, and Independent Age, which supports older people.
Simon Bottery, Independent Age director of policy, said: "Icy conditions present a very real problem to older people, many of whom struggle with their mobility.
"Unfortunately, in severe weather, pavements are usually left untouched by councils who focus on keeping the main roads moving. As a result, thousands of older people find themselves at much greater risk of falls and injury, or in danger of isolating themselves in their own homes through fear of going out."
He said that while the charity understood the financial pressures councils were under, it would like local authorities to be clearer about what they would and would not be doing during winter weather.
Karen Clarke, senior litigation assistant in the personal injury department of Shropshire-based law firm Lanyon Bowdler, said councils have faced bills for thousands of pounds in compensation as well as their own and the claimant's legal costs following falls on ice.
She said pathways were covered by the Occupiers Liability Act 1957, which covers any pavements, roads and land which the public are invited to use.
Under the act, landlords - which includes local authorities - are required to take "reasonable steps" to ensure a road or pavement is safe.
Ms Clarke said: "The most crucial question which needs to be answered if someone falls and injures themselves is 'Was it reasonable to not grit that particular area?'
"To avoid liability they must show they took reasonable steps but in heavy snowfall there is a limit to how much you can do."
'Real dangers'
Michelle Mitchell, director general of charity Age UK, said they were encouraging people to be good neighbours and help clear pathways that councils had left untreated.
She added: "Over a third of over-65s fall each year and snow and ice pose real dangers for older people. During this period of cold weather, we would urge people to check on their older relatives or neighbours to ensure they are warm and have plenty of food."
But it is not just disabled and older people who feel unsafe on icy pavements.
Samantha Gamblin lives in Stirchley, Birmingham, and walks to work and to take her children to school.
"It's ridiculous that we have to walk in the road to keep ourselves safe and then risk getting knocked over by a car," she said.
"Even just gritting main paths to places like schools would be better than nothing."
Living Streets is encouraging councils to agree to a winter contract with communities to find different ways to keep pavements safe.
One local authority which is working to tackle the problem is Sandwell Metropolitan Borough Council.
Sandwell Council leader Darren Cooper pioneered a "snow champions" scheme to keep pavements and driveways free of snow.
'Community spirit'
He was the first to sign up to the scheme and was out at the weekend clearing pavements around his home in Smethwick.
He said people in Sandwell were showing "real community spirit" since the scheme's launch in November 2011.
The council's 2,500 snow "champions" are all given hi-visible safety jackets, a snow shovel and a container of salt and work to clear pavements and drives of homes around where they live.
Programmes like the one in Sandwell have been welcomed by Living Streets but with the cold snap predicted to continue, they are hoping more local authorities take an interest in the problems of icy pavements for the country's pedestrians.