Milly Dowler killer Levi Bellfield seeks appeal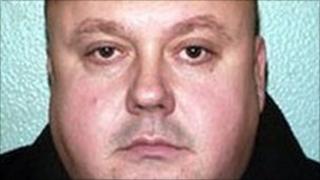 The killer of schoolgirl Milly Dowler is due to seek permission to appeal against his conviction for her kidnap and murder.
Lawyers for former bouncer Levi Bellfield are due to make an appeal application on Wednesday at London's Appeal Court.
Bellfield was jailed for life in June 2011 after being found guilty of abducting and killing Milly.
The 13-year-old disappeared in 2002 as she walked home from school in Surrey.
Her remains were found in Hampshire six months later.
Milly was identified by dental records but the cause of death could not be determined due to the length of time that had passed.
'Cruel and pitiless killer'
Bellfield went undetected until his arrest in November 2004 for the murder of French woman Amelie Delagrange.
In 2008 he was convicted of murdering two young women in west London and attempting to murder a third.
When Milly disappeared, she had last been seen by a school friend in Station Avenue, Walton-on-Thames, close to where Levi Bellfield lived.
During the trial last year, Brian Altman, QC, also said Bellfield and his family had rented a flat "literally just yards away from the spot where Milly was last seen alive".
Jurors heard that police knocked on his door on 11 occasions, the last of which was on 28 May 2004, but officers never tried to contact the letting agent in an effort to trace him.
Bellfield refused to give evidence in his defence.
When convicted, the 43-year-old was already serving a whole-life term for the murders of Amelie Delagrange and Marsha McDonnell - and the attempted murder of Kate Sheedy.
Jurors heard he carried out the murders by striking his victims on the head with a blunt instrument and tried to murder Kate Sheedy by deliberately running her over in a car.
The court heard the offences bore "similarity in many respects" to Milly's murder.
Trial judge, Mr Justice Wilkie, described Bellfield as a "cruel and pitiless killer".
Bellfield was given a whole-life tariff for murdering Milly.
Following Bellfield's sentencing, Surrey Police apologised to the Dowler family for mistakes made during the investigation that allowed him to go undetected.
His application for leave to appeal is due to be heard by a panel of three judges - the Lord Chief Justice, Lord Judge, Mr Justice Wyn Williams and Mr Justice Maddison.