Furness hospital 'still putting mothers and babies at risk'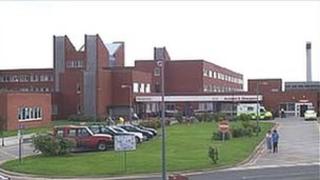 Mothers and babies are still being put at risk at a south Cumbria hospital, an independent watchdog has found.
The report, by Monitor, also criticised Morecambe Bay NHS Foundation Trust over management and staffing and the way follow-up appointments were missed.
The trust came under the spotlight following a number of deaths at Furness General Hospital's maternity unit.
It said it accepted Monitor's findings and was working hard to make the changes needed.
Shortage of training
The report found maternity services suffered from a lack of equipment, such as electronic devices used to monitor a baby's heart rate.
There was also a shortage of training or induction in maternity, which meant some junior and middle grade medical staff did not even know where the adult resuscitation equipment was kept.
It found medical and midwifery teams were not working together and staffing issues meant some people were working more than 12 hours without a break.
A third key point related to the appointment system, with thousands more follow-up appointments missed because of computer problems than previously acknowledged.
The problems stemmed from the introduction of a new computer system called Lorenzo and while the report said the changes were made for good reason, they were made without understanding the risk and the impact to patients.
'Uncomfortable reading'
Of those 14,000 patients who did not get the right follow up appointments, the most urgent have been seen. The rest are due to be seen by the end of March.
Morecambe Bay NHS Foundation Trust said in a statement: "The three key reports undoubtedly make uncomfortable reading for the trust but we accept their findings.
"Everyone has been working hard to make the changes that are needed to resolve the current issues at the trust and considerable progress has already made.
"However, the appointment of Sir David Henshaw as interim chair and two new directors will give us the additional resources and expertise at the top of the trust to drive through the changes that we still need to make, whilst also ensuring longer term improvements to our services."