Thomas Haigh guilty of Cornish farm burial murders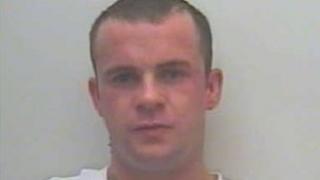 A Yorkshire man has been convicted of shooting two drug dealers on a Cornish farm.
Thomas Haigh, 26, of West Yorkshire, was found guilty of murdering Merseyside boxer Brett Flournoy, 31, and David Griffiths, 35, of Berkshire.
Their remains were found at Sunny Corner farm near St Austell last July.
Ross Stone, 28, of Sunny Corner farm, was acquitted of murder at Truro Crown Court. He has admitted his part in burying the bodies.
He admitted a charge of obstructing a coroner by illegally disposing of the bodies on his land.
Burned bodies
Jurors earlier in the trial heard that both defendants blamed the other for killing the two men, to whom the defendants both owed money, in Stone's case up to £40,000.
Haigh, formerly of Huddersfield, claimed Mr Flournoy and Mr Griffiths worked for an IRA gang that "ran" Liverpool's drugs trade.
Giving evidence in his own defence, Stone said Haigh had previously acted as a drugs mule for Mr Flournoy and Mr Griffiths.
He said Haigh had brought cocaine into the UK from Brazil, but was scared he would get caught if he went again.
He said Mr Flournoy and Mr Griffiths sent Haigh down to "babysit" him and a crop of cannabis he was growing in a bid to give them their money.
Stone said Haigh began to talk of killing them after learning they were coming to Cornwall to see him.
The burned bodies of Mr Griffiths, a father of three originally from Plymouth but living in Bracknell, and Mr Flournoy, a father of two from Merseyside, were found dumped in the back of their van buried at Sunny Corner farm.
They had both been shot.
Haigh and Stone will be sentenced on Tuesday.
Det Ch Insp Keith Perkin said after the verdict that the case was "not typical of what happens in Devon, Cornwall and the Isles of Scilly".
He said: "This was not a case of gangs running amok with firearms.
"These murders took place in a very isolated place in Cornwall where the offenders were known to their victims."