Abuse priest Alexander Bede Walsh 'faces long sentence'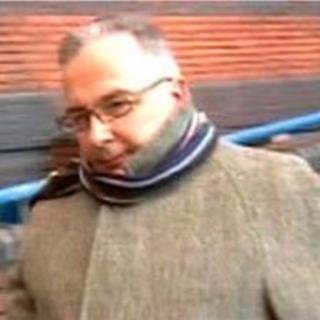 A former Roman Catholic priest from Staffordshire has been warned he faces jail after being convicted of 21 counts of child abuse.
Alexander Bede Walsh, of Church Lane, Abbots Bromley, carried out the attacks while working at children's homes and churches between the 1970s and 1990s.
He was convicted of two serious sexual offences and 19 counts of indecent assault at Stoke-on-Trent Crown Court.
Sentencing was adjourned but Walsh, 58, was warned to expect a long sentence.
The offences against boys aged between eight and 16 happened while Walsh was working in Warwickshire, Staffordshire and Coventry.
During the 10-day trial, the jury heard Walsh already had a previous conviction for possessing indecent images of children.
'No compassion'
He was arrested and interviewed in 2006 after two men contacted the police to claim they had been abused in Coventry as children.
Further complainants, who had been subjected to "serial, predatory" abuse, came forward between 2008 and last year.
All eight victims gave evidence at the trial.
Det Con Tim Bailey, from Staffordshire Police, said after the hearing: "He is supposed to be a man of the cloth but he has shown no compassion, no integrity and no humanity.
"He has forced grown men to come to court and relive childhood experiences of sexual abuse."
Mr Bailey said he believed there could be further victims who had yet to come forward.
Speaking after the trial, the Archbishop of Birmingham Bernard Longley apologised to the victims for the "horrendous crimes" and the "deep betrayal of trust" they had experienced.
'Deep and lasting damage'
"I realise that this has been an indescribably difficult and distressing time for you, your families and friends," he said.
"I recognise that these crimes can cause deep and lasting damage."
He thanked them for their courage in giving evidence to bring the crimes "into the light of day" and added that robust safeguarding policies were now in place throughout the Catholic church.
The police said Walsh had worked in parishes in Coventry, Banbury and north Staffordshire after being ordained in 1979.
He also served at a Roman Catholic boarding school in Staffordshire and at a children's home in Coleshill, Warwickshire, which has since been closed, police said.
The jury cleared Walsh of six charges.
Walsh had told the court he had never sexually abused or inappropriately touched any of the complainants, whom he said were motivated by the possibility of compensation.
The court heard he resigned from the priesthood after the 2004 conviction for downloading indecent images of children, but was continuing to live in Church accommodation.
Steps will now be taken to remove him from the clerical state, a spokesman for the Archdiocese of Birmingham said.