Englishman v food? The rise of competitive eating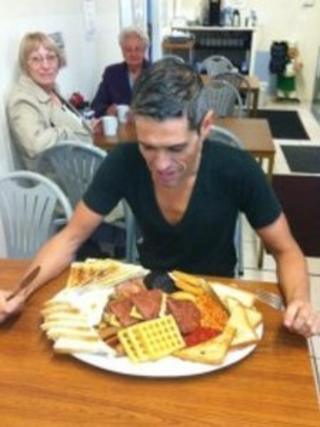 "I don't even like breakfast, I just do it for a laugh," said competitive eater Robert Pinto in the week he finished a 9lb (4kg) fry-up in 26 minutes.
The 39-year-old, from Stamford in Lincolnshire, was inspired to take on his latest eating challenge after he heard about it in the media.
The Kidz Breakfast at Jesters Diner in Great Yarmouth includes 12 rashers of bacon, 12 sausages and six eggs and has been criticised for its health risks.
As more and more restaurants jump on the eating challenge bandwagon, does it mean American-style competitive eating is establishing itself in England?
Mr Pinto, a clothes shop owner, is 6ft 1in tall and weighs 11 stone (70kg).
He exercises regularly and has a 30in (76cm) waist which he believes is the key to his ability to eat huge meals.
He said eating challenges like those seen on American TV show Man v. Food are unfairly criticised in England for encouraging obesity.
"I've always been able to eat a large amount," he said. "The less fat you have on your body the more your stomach can expand.
"I've always made sure I stay fit and healthy. I'm not constantly going out and eating a large amount."
He said shows like Man v. Food are popular among the men he knows because they tap into male competitive nature.
"It's definitely more of a guy thing," he said. "Men like to challenge each other and say 'I can drink more pints than you' or 'I can eat more than you'.
"The men I know all watch Man v. Food, although in this country we're a bit more worried about promoting unhealthy eating."
He said in the US competitive eating is big business with huge prizes and sponsorship deals on offer.
Major League Eating (MLE) is a world body that oversees professional eating contests.
The majority are held in the US but they have also been staged in Australia and Singapore.
Sponsorship and prizes come from fast food companies, as well as casino and heartburn medicine brands that use the events for publicity.
So far only a handful of eating competitions have taken place in England.
Mike Antolini, spokesman for MLE, said: "In 2005, Major League Eating sanctioned a qualifying event in England for the Nathan's Famous Fourth of July International Hot Dog Eating Contest. We'd love to return again in the near future.
"Major League Eating annually visits several countries around the world including Singapore, China, Hong Kong, Australia and Thailand.
"Bringing a few US-based Major League Eaters to compete in England would greatly motivate England's best eaters to step forward and, perhaps, one day challenge for the famed Nathan's Famous Mustard Yellow belt on July 4th."
Mr Pinto said he thinks there is an interest in them in England but that people also worry more about public health risks.
He said: "Obviously it's not great for the body but people in competitions in America have a healthy lifestyle.
"Most do 50 or 60 hours' work in the gym and drink water to expand their stomachs. They're not eating lots except in the competitions.
"Obviously if someone has a problem with their weight you wouldn't encourage it but people have a mind of their own."
Tam Fry, spokesman for the National Obesity Forum, said while it is OK to eat a large amount if you work it off he was concerned people would take on an eating challenge but then not put in the exercise.
He said: "It sends out all the wrong messages.
"In theory if you go in for a competition, then exercise and really take control of your diet that should be alright.
"Unfortunately people who see this kind of thing don't understand you have to run 16 miles to work it off."
He added: "The fact that competitive eating is increasing is largely disappointing.
"Unfortunately we have a culture that sees America as the promised land and that is going to catch up with us."
Businesses which offer huge meals like the Kidz Breakfast say they are "just a bit of fun".
So far prizes for competitive eating in England are relatively small and generally only involve the cost of the meal being refunded.
But Mr Pinto, who has completed three huge breakfast challenges and also eaten an 80oz (2.25kg) steak, says he is not in it for the money.
He said: "It's not enjoyable to eat an 80oz steak, you just do it to say you can."