Harry Redknapp prosecutors say NOTW tape 'extremely telling'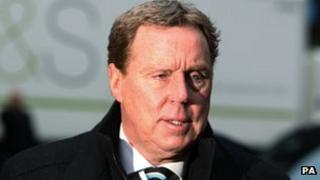 Harry Redknapp's admission of lying to a News of the World reporter is "extremely telling", a court has heard.
In closing statements, prosecution lawyers asked the jury for a "cold, clinical analysis of the issues".
Mr Redknapp, 64, denies allegations £189,000 paid into his account was a bonus for profits on transfers while at Portsmouth FC.
He and ex-Portsmouth chairman Milan Mandaric, 73, deny cheating the public revenue.
The prosecution said while Mr Redknapp had "many qualities", the key question surrounded the Monaco account, named Rosie 47 after Mr Redknapp's dog.
'Tell police truth'
"Did it arise from employment income? Was it a bonus?," they asked. "If [it was a] bonus, [it] should have been taxed."
The prosecution explained that during a taped interview with the News of the World, Mr Redknapp "couldn't have made it plainer" that the money was a bonus.
Jurors were told the way Mr Redknapp answered the reporter's questions was "extremely telling ... and will assist you enormously in determining the truth".
Under cross examination on Thursday, Mr Redknapp said he lied to reporter Rob Beasley about the source of payments to the account because he did not want negative stories ahead of a cup final.
The Tottenham boss said: "I have to tell police the truth, not Mr Beasley - he's a News of the World reporter."
The jury has been told it will retire to consider its verdicts on Tuesday.
The trial continues.