Harry Redknapp admits lying to News of the World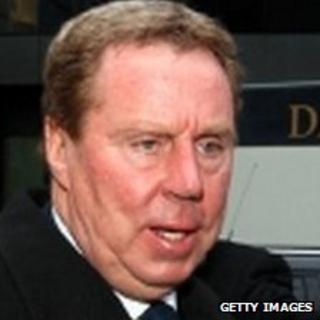 Harry Redknapp has admitted in court to lying to a News of the World reporter.
He said he lied to Rob Beasley about the source of payments to his Monaco bank account because he did not want negative stories ahead of a cup final.
Mr Redknapp denies allegations that £189,000 paid into his account was a bonus for profits on transfers while he was employed by Portsmouth FC.
The Tottenham boss said: "I have to tell police the truth, not Mr Beasley - he's a News of the World reporter."
Mr Redknapp, 64, told Southwark Crown Court the reason he gave the journalist incorrect information was to prevent a story appearing in the News of the World ahead of Tottenham's appearance in the 2009 League Cup final against Manchester United.
'Easy answer'
When asked by the prosecution why he referred to payments as bonuses he was due for the sale of striker Peter Crouch from Portsmouth to Aston Villa, Mr Redknapp told the court: "I wanted to make the point to Mr Beasley that it was paid by my chairman [Milan Mandaric]."
He added that he "referred to it to him [Mr Beasley] many times as my Crouch bonus" as "Crouch is an easy answer".
Mr Redknapp told the court: "I just want to get Mr Beasley out the way - I just didn't want a story in the paper.
"I was going to come down to breakfast and all my players were going to be looking at the back page of the News of the World.
"It was going to be embarrassing."
John Black QC, for the prosecution, accused Mr Redknapp of "letting the cat out of the bag" during the phone conversation with Mr Beasley.
Mr Redknapp replied: "Why would I let the cat out of the bag to the News of the World if I had done anything wrong?"
'Loved dog to bits'
He continued: "Do you think me and Mr Mandaric are going to have completely different stories. Are we that stupid?"
Speaking about the naming of his Monaco account, Mr Redknapp said he called the account Rosie after his pet bulldog because "I loved her to bits".
He told the court that he had to add his birth date to the name as there was another Monaco HSBC account called Rosie.
When prosecutor John Black QC suggested someone else might have had a dog by the same name, Redknapp said: "Or wife".
He added: "If she was as nice as Rosie they have got a good wife."
Mr Redknapp told the court he had not told his accountant about the account because "I had nothing to tell him, there was nothing in it".
'That's an insult'
Mr Redknapp told the court that the Rosie account was not a secret.
"I told all the boys at Portsmouth about it, I told Quest [the Premier League inquiry into bungs] about it, that's how secret it was.
"As far as I was concerned, it was the most unimportant thing in my life, that account."
He also said: "I've paid over £8m income tax.
"Why are we bothering over £10,000 or whatever I'm said to have saved in tax?"
At the end of his cross-examination Mr Redknapp replied to the accusation he had been "telling a pack of lies".
He said: "You think I put my hand on the bible and told lies? That's an insult."
Former Arsenal goalkeeper Bob Wilson was then called by the defence team.
He told jurors that Mr Redknapp was an "amazing guy" who has always helped with his charity work.
Mr Redknapp is on trial alongside his former employer at Portsmouth, the club's ex-chairman Mr Mandaric, 73.
Both deny cheating the public revenue.
The jury has been told it will retire to consider its verdicts on Tuesday.
The trial continues.