Met Police admits victim email address sharing error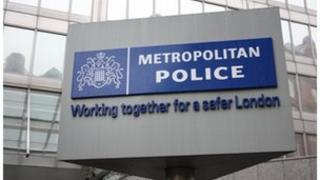 Scotland Yard has admitted inadvertently sharing the email addresses of more than 1,000 victims of crime with other victims.
In total 1,136 emails were sent out "in human error" on Monday, police said.
No other personal details were revealed and police are contacting everyone affected to explain what happened and to apologise, Scotland Yard confirmed.
A total of 958 people affected were victims of theft, while 100 people were victims of criminal damage.
The Met said the vast majority of the people who had been affected were victims of "lower-end crime".
One of those affected was a victim of common assault.
The Met said the incident occurred when a Crime Recording and Investigation Bureau (CRIB) project was emailing out a survey to victims about its creation of a single telephone investigation unit for London.
A Metropolitan Police spokesman said: "In total 1,136 emails were sent out in seven batches of between 119 and 198 recipients but because the addresses were put in the wrong box they were visible to the other recipients in the batch.
"We are also reviewing our processes in relation to surveys of this kind to minimise the risk of similar mistakes being made."
Scotland Yard said it had notified the Information Commissioner's Office (ICO).
An ICO spokesperson said: "We have recently been informed of a possible data breach which may involve the Metropolitan Police.
Protecting privacy
"We cannot say at this stage whether a breach has occurred.
"We will be making enquiries into the circumstances of the alleged breach of the Data Protection Act before deciding what action, if any, needs to be taken."
It added that a maximum penalty of £500,000 for a breach is for "the most serious cases".
"To be able to serve a penalty we have to demonstrate that a breach caused substantial damage or distress, or that the organisation knew or ought to have known that there was a risk this could have happened," the spokesperson said.
Victim Support's London spokesman Jeff Gardner said: "This leak appears to have been caused by human error and there is no system which can entirely prevent this from happening."
But Nick Pickles, director of privacy campaign group Big Brother Watch, said: "The fact that technology makes it easier to make mistakes does not excuse the mistakes.
"Too many incidents where information is compromised are treated as minor, internal problems.
"Given how much personal information is now collected and held, it is time for the sanctions to be far greater and real action taken to protect people's privacy."