Surrey and south London trusts 'explore other options'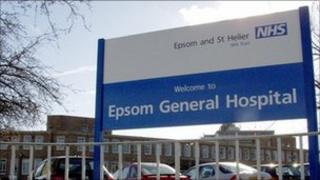 Health trusts in Surrey and London are exploring alternative options following the breakdown of merger talks, the Prime Minister has told the Commons.
Epsom and St Helier NHS was seeking to demerge its hospitals under the move.
Ashford and St Peter's NHS in Surrey was bidding to merge with Epsom Hospital and St George's in London was bidding to merge with St Helier.
However, St George's is no longer able to go ahead with the merger due to "financial challenges".
David Cameron was answering a question at PMQs on the abandoned merger from Liberal Democrat MP Tom Brake.
Mr Cameron said: "I understand the trust board and those working on a possible merger had already started to look at the other options in case this didn't happen.
"I understand they're now looking at the next steps."