Harry Redknapp trial: My mind was on David Beckham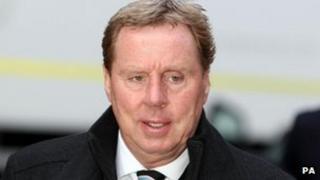 Harry Redknapp has told jurors he was more worried about David Beckham than dealing with his Monaco bank account.
Talking about a $100,000 cash transfer made in 2003 from Monaco to ex-Portsmouth chairman Milan Mandaric's US account, he said: "All I was thinking about was marking David Beckham."
He also denied having been "greedy" over his cut of transfer profits.
Mr Redknapp, 64, and Mr Mandaric, 73, deny cheating the public revenue over payments made to the Monaco account.
During his evidence at Southwark Crown Court, Mr Redknapp paused and shouted at a detective.
'Died in crash'
The football boss held his hands up and looked around at Det Insp Dave Manley midway through questioning.
He said: "Mr Manley, will you please stop staring at me. I know you are trying to cause me a problem, OK."
Speaking about the Monaco account, Mr Redknapp said: "When he [Mr Mandaric] first mentioned [the account] it to me he was on about making a million dollars - he said it was a disaster later on."
The Spurs boss told jurors he was "morally" due a 10% cut of a £3m profit from selling England striker Peter Crouch, despite his share of any transfer profits having been reduced from 10% to 5% when he moved from the director of football post to become manager at Portsmouth.
The prosecution alleges Mr Mandaric made an untaxed payment to Mr Redknapp linked to the Crouch deal, but Mr Mandaric told the court the payment "had absolutely nothing to do with football" and was an investment for Mr Redknapp.
Speaking from the witness box, Mr Redknapp said: "I've never been greedy in my life.
"Morally I was due the bonus, although, legally I wasn't - I always related it to that... It wasn't my Crouch bonus as it wasn't in my contract."
Mr Redknapp said he was told "to get on with my job basically" when he told Portsmouth chief executive Peter Storrie that Mr Mandaric had told him he was entitled to 10%.
Mr Redknapp also described how he and Mr Mandaric spent a lot of time together when he joined the club as director of football.
He said: "I would be like his chauffeur... we spent hours upon hours upon hours together, I didn't get involved at the football club, on the training ground with the manager, it was me and Milan everywhere."
Mr Redknapp told how he had first became aware of Mr Mandaric in the 1970s when he played football in the US league.
"He had billion dollar companies, this man has made a fortune. He said he was going to make some investments."
Mr Redknapp said he was reluctant when Mr Mandaric suggested he opened a Monaco account.
'Best accountants'
Mr Redknapp said he flew out to Monaco with his wife Sandra, and came up with the name of Rosie for the account because it was his dog's name.
He said he had no further dealings with the account, adding: "It would be a waste of time giving me any forms because I would most probably have left it on the deckchair where me and Sandra were sitting."
Mr Redknapp later told the court how his wife thought he had been killed in a plane crash when police raided their home in a separate inquiry into alleged football corruption in 2007.
He was travelling back from a game in Germany leaving his wife at home.
Police and reporters swooped on the property leading Sandra to believe her husband had been killed.
Earlier, Mr Redknapp said he hired the best accountants in London to keep his books.
The Tottenham manager told jurors: "I have always paid my taxes. I've always gone to the best available people."
The pair are accused on two counts, the first being that between 1 April 2002 and 28 November 2007, Mr Mandaric paid $145,000 (£93,100) into a bank account held by Mr Redknapp in Monaco to avoid paying income tax and national insurance.
The second charge for the same offence relates to a sum of $150,000 (£96,300) allegedly paid by Mr Mandaric to the same account between 1 May 2004 and 28 November 2007.
The trial continues.