River Tamar bridge and ferry tolls 'may increase'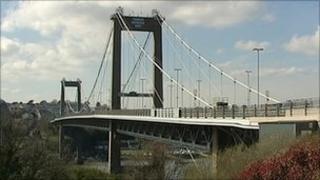 Tolls for the Tamar Bridge and Torpoint Ferry between Devon and Cornwall could increase because fewer people are using them, managers say.
The routes at Plymouth see about 50,000 vehicles using the bridge on an average weekday and 8,000 vehicles on the ferry during a busy weekday.
Manager said that traffic levels had dropped by about 5%, recently.
The toll for cars and vans is £1.50, with larger vehicles charged more. Tolls last went up in March 2009.
No figures of how much tolls could increase by have been published.
Councillor Martin Leaves, of Conservative-led Plymouth City Council, who is also joint chairman of the Tamar Bridge and Torpoint Ferry Committee, said it was "unclear why traffic volume had dropped".
"It could be because people are being more environmentally aware and not travelling, or maybe they are using the [further north] A30 instead," he said.
"If that gets any worse, we would have look at whether we should increase the tolls."
The committee, which is run by Plymouth City Council and Cornwall Council, said it was monitoring the situation before it decided on any rises.
When the tolls were last increased in 2009, they went up by 50%, from £1 to £1.50. It was the first rise since 1994.