Harry Redknapp: Behind the public face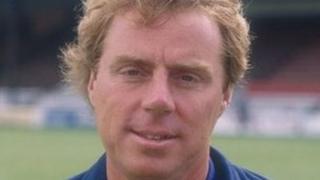 In public Harry Redknapp is the affable, well-respected, cheerful Cockney who is loved by football fans across the country.
During his trial, which has seen the Tottenham boss cleared of receiving untaxed payments, different sides of his personality have emerged.
So what is Redknapp like behind closed doors?
Steve Claridge was 17 when he moved to AFC Bournemouth, where Redknapp was manager.
"I'd put him into the category of the old school-type manager, it is all about the football, it's [all about] getting the result on the Saturday," Claridge said.
"Harry is not going to go out of his way to man-manage people or mollycoddle [players].
'Ruthless streak'
"You are either going to be a proper person, a strong character, stand up to it, be a man about it or go under, and if you go under he will get rid of you, that's the type of person he is."
The Tottenham boss might keep that side well-hidden but it is something successful bosses need, Claridge said.
"You wouldn't stay in management for as long as he has, you wouldn't stay at the level that he has stayed, unless he's got that edge to him," he said.
"He's got that ruthless streak... and along the way you are going to upset people, but ultimately it will be for the good of the football club."
Redknapp's life has always been immersed in football, playing for and managing both West Ham United and Bournemouth, as well as spells in charge of Southampton and Portsmouth.
His son Jamie and nephew Frank Lampard have both played at the highest level for their country.
His major honours include the FA Cup and Football League Division One titles with Portsmouth, before leading Spurs into the UEFA Champions League.
Towards the end of his playing career he had a stint with Seattle Sounders in the US, before returning to England and becoming caretaker boss at Bournemouth in 1983, losing his first game 9-0 to Lincoln.
He eventually led the side to the old third division title, in 1987.
But in recent times, Redknapp has been dogged by controversy.
A Panorama programme in 2006 filmed him allegedly making an illegal approach for a player, a claim he has always denied, and following an inquiry no action was taken.
'Fight his corner'
A year later, his beloved home in the exclusive Dorset peninsula of Sandbanks was raided by police investigating alleged football corruption.
But Redknapp, whose wife Sandra was at home alone, was never happy about the way the early-morning operation was carried out and after a legal battle the raid was ruled unlawful.
That willingness to stand up for himself was a trait Claridge recognises in Redknapp's management style.
"He's going to fight his corner," he said. "He is a hard taskmaster.
"He will meet players head-on... if they don't come up to scratch then they will go.
"He sets his standards high, so why shouldn't he set yours high?"
The Sandbanks home is where Redknapp still makes the 240-mile round-trip to work in north London, something which Claridge believes shows he still has a big "appetite" for the game, even at the age of 64.
It was Redknapp's time at Portsmouth which has come under the spotlight during his trial and it is a city with mixed views on their former boss after his defection to bitter rivals Southampton in 2004, only for him to return to Pompey and win the FA Cup in 2008.
Colin Farmery, who has written a number of books about the club, said: "For all his faults - and at Portsmouth we know he's got his faults - he has produced some fantastic football teams in his time."
Despite minor heart surgery last year Redknapp says he has no plans to give up the game he loves.