Rubbish fines are costing councils millions of pounds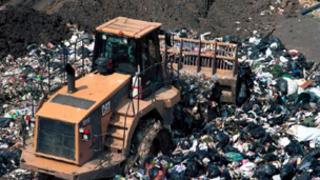 "The landfilling of waste, especially biodegradable waste, can pollute the environment and produce greenhouse gases which contribute to climate change."
So says DEFRA, justifying the rationale behind the government's imposition of a landfill tax.
It is, in effect, a system of punitive fines on local authorities using landfill sites: no matter that they put yet more pressure on councils already struggling with the squeeze on their budgets because of the public spending cuts imposed by the self-same government.
It is all underpinned by the EU's Landfill Directive, setting out challenging targets for all member nations to reduce the amount of biodegradable municipal waste sent to landfill.
Don't believe everything you read in the papers. Britain does not always act as though it is semi-detached from the rest of Europe. Here at least is one area where we are at our most communautaire.
Forfeiting millions
In what critics see as yet another example of Britain "gold-plating" European regulations, the UK government has operated an escalator, raising fines on landfill every year since 1998; from £7 per tonne then, to £64 now.
What this means in practice is that councils are forfeiting millions in fines at a time when local services are already under unprecedented pressure.
Over the past year, Worcestershire County Council has been fined £6 million. That's the same as their budget for their libraries and four times what they have to spend on subsidies for local bus services.
But surely the onus should be on councils to replace this most environmentally-unfriendly method of waste disposal?
According to the Local Government Association, councils support the overall objective, but struggle to meet the increasingly demanding targets set by the UK government: to reduce the amount they send to landfill to 50% of their 1995 levels by 2013, and to 35% by 2020.
Tangled relationship
Politically of course, this story has the lot!
Just consider the range of viewpoints on this week's Sunday Politics on BBC One.
The UKIP MEP Mike Nattrass sees it as yet more meddling in our domestic affairs by the EU.
Or is it more a case of the EU showing real leadership credentials by coercing councils to stop using landfill tips? That's certainly how the Green Party sees it.
And then of course, there is the tangled relationship between local and central government. We will be asking Worcestershire County Council's cabinet member for sustainability, Anthony Blagg, whether or not the targets imposed by his party colleagues at Westminster are achievable.
Joining me in the studio will be the Conservative MP for Stratford-on-Avon, Nadhim Zahawi, and the Labour MP for Birmingham Northfield, Richard Burden.
I hope you too will join Andrew Neil and me, from 12:00 GMT on BBC One on Sunday 5 February.
And of course you can also follow me on Twitter - @PatrickBurnsBBC