Internet 'proves real lifeline' to terminally ill children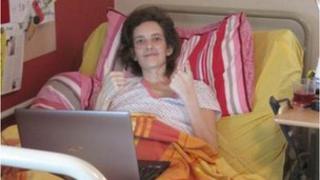 After being diagnosed with a rare form of liver cancer in 2008, teenager Rosie Kilburn decided to keep an online diary about her life.
She died in September at the age of 19, but since then her mother Jo has continued to update the blog.
"Rosie decided that rather than feeling crushed by cancer she would do something about it," Mrs Kilburn said.
"Her blog gave her an avenue to share what was happening. It opened up a whole new network."
Academics have found increasing numbers of vulnerable adults and seriously ill young people like Rosie have turned to social networking to communicate with their friends - and to make new ones.
Dr Emma Bond, senior lecturer in childhood and youth studies at University Campus Suffolk, has carried out research on cyber bullying and cyber abuse among young people and vulnerable adults but said the positive effects of social networking could equally not be ignored.
She said that while there were plenty of stories in the media of cyber bullying and children being groomed online by paedophiles, it was worth considering the positive impact the internet could have for young people.
"Something we're becoming more and more aware of is vulnerable adults using social media," Dr Bond said.
"One thing that is emerging is that people with Asperger syndrome and autism find it easier to communicate using sites like Facebook and are heavy users of social media."
She added: "That can be a problem if they don't access those sites carefully and we are looking at doing more research in that area."
'Less shy'
Emma Thomson, who has Asperger syndrome and manages an online community for other people with the condition, said social networking could be good - but warned there were risks.
"I am more confident and less shy on [the internet] as it's a lot easier to communicate than face-to-face," she said.
However, she said a potential problem was that people learnt to be over-reliant on the internet for communication.
"Individuals don't end up going out ever so they end up staying in, isolated and slowly losing their limited communication abilities that they may have," she said.
Caroline Hattersley, from the National Autistic Society, said social networking could allow people with autism to overcome fears about face-to-face communication when trying to find people with similar interests.
"Social networks can be a stepping stone into better social engagement. It takes away non-verbal expression which some people with autism find quite difficult to understand," she said.
"Social networking shouldn't be seen as an alternative to social engagement but what it can do is help people who find face-to-face engagement hard."
Dr Bond said as well as vulnerable adults, going online could benefit seriously ill children.
'Real lifeline'
She said: "Another thing we're looking at is the link the internet provides to the outside world for children with a life-limiting illness.
"Previously they may have felt locked away in a hospice but the internet can be a real lifeline for keeping in touch with friends and getting them out there sharing their experiences."
Mrs Kilburn said her daughter Rosie had used Facebook and texting to keep updated with what her friends were doing, but added that her blog had given her "a new network of friends who supported her".
She said the family had decided to keep the blog going after Rosie's death because of the community that had built up around it.
"We needed that community as well," Mrs Kilburn said.
"It helped us with our grieving and enabled us to keep her fundraising going."
Tuesday marks the 2012 Safer Internet Day, an annual event designed to encourage people to use internet technology more responsibly.
This year it coincides with the week-long BBC Share Take Care campaign, in partnership with the UK Safer Internet Centre, to raise awareness of issues surrounding safeguarding reputation online.
Dr Bond said that although it was important to be aware of the risks, those who look after young people and vulnerable adults should also be aware of the benefits the internet affords.
She said: "It's about opening up dialogue and raising awareness.
"It's very easy to get caught up in the risks of the internet but it is also a fantastic opportunity."