Harry Redknapp payments not 'major' issue to Mandaric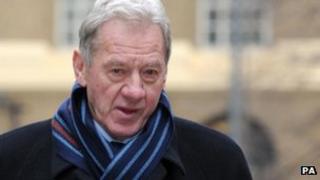 Former Portsmouth chairman Milan Mandaric has said payments made to manager Harry Redknapp were "not a major factor" in his life.
He told Southwark Crown Court a request sent by his lawyers to Mr Redknapp seeking repayment of cash was not "my number one priority".
Mr Mandaric, 73, also said the two were friends again after a "divorce" over Redknapp joining rivals Southampton.
Mr Redknapp, 64, and Mr Mandaric deny cheating the public revenue.
The pair are accused on two counts, the first being that between 1 April 2002 and 28 November 2007, Mr Mandaric paid $145,000 (£93,100) into a bank account held by Mr Redknapp in Monaco to avoid paying income tax and National Insurance.
The second charge for the same offence relates to a sum of $150,000 (£96,300) allegedly paid by Mr Mandaric to the same account between 1 May 2004 and 28 November 2007.
The court heard Mr Mandaric's lawyer sent a letter to Mr Redknapp's solicitor asking for the money paid into the manager's Monaco account to be returned.
Mr Mandaric said: "It was not that I needed this to come back immediately. Eventually I would get the money back."
He added he thought it was "more important that we were going in the right direction" at Portsmouth and as friends.
"I really was not in favour of this letter, it was between Harry and me," he told the court.
"I didn't put it as my number one priority."
Mr Mandaric said he was "busy" travelling when the letters were sent.
He also said Rob Beasley, a News of the World sports reporter, had tried to "debalance" him when asking him questions about the account.
He said the charges were "sad, unfair - an insult to me, my family, my friends" and he had paid "£55m in income taxes for six years".
"Never, ever in my mind was coming the idea that I could get rich evading money. I did not even know what the word meant. I did not cheat anyone."
He said "not in a million years" would he have paid £189,000 into the account to avoid taxes.
Investment 'embarrassment'
The former chairman described how he and Mr Redknapp argued over whether the manager was owed a 5% or 10% bonus on the sale of striker Peter Crouch.
"He has a tendency to moan, to be unhappy, to find something," Mr Mandaric said.
Mr Mandaric repeatedly denied the Monaco account was anything to do with Portsmouth and said it was not a bonus for Mr Redknapp.
He later told the court he was "embarrassed" by the fate of investments on Mr Redknapp's behalf.
"I felt bad about the investment," he said. "I was always bragging about what a good businessman I am and I am not able to come through for him.
He added that he did not see "anything unusual" in Mr Redknapp naming the account after his dog, Rosie, and said he had met the pet several times.
The trial continues.