Europe referendum on the way - for some of us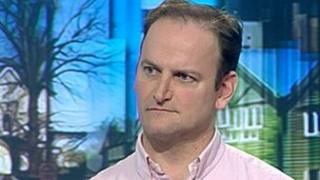 Finally there's going to be a referendum about whether we should leave the European Union.
But for those of you who are desperately waiting for one, don't get your hopes up - it's going to be very limited.
Only people in the constituencies of Ipswich, Corby and 11 other seats across the country will get to have a say on whether to have a national referendum - for now.
These referendums have been organised by the campaign group, People's Pledge. It has the backing of a number of MPs including Luton's Kelvin Hopkins, and the MP for Clacton, Douglas Carswell.
"For too long the main parties have dodged this issue," Mr Carswell told us. "This is an opportunity for people to make it clear to their local MP that they feel strongly about this."
People's Pledge has been calling for a referendum for some time. Given that there's no sign of the government calling one, it's decided to take matters into its own hands.
It has drawn up a shortlist of 13 constituencies and will hold one referendum in April, and the rest in the autumn. The vote will be by post and it'll be overseen by an independent electoral monitoring organisation.
"The time has come to put aside what people like me think on this issue, it's time to ask ordinary people what they think," said Mr Carswell.
"It's their opportunity to finally put this issue on the agenda and make sure that even MPs in safe seats recognise that it matters enough to people whether they remain (in the EU).
"If people in Scotland can have a referendum on independence, why can't people in my constituency have a referendum on that other union?"
Keenly watched
Ian McKenzie from People's Pledge Communications says a referendum on this issue is now long overdue. "The last time Britain had a referendum on whether we should stay in the Common Market was in 1975, since when it has changed beyond recognition from an economic to a political union. "
He says that holding each referendum will cost his group £20,000 to employ the election monitoring company and on top of that will be the cost of campaigning. He says People's Pledge has "two or three hundred activists" in every seat which it plans to target. He's hoping for a similar turnout to that obtained in local council elections (around 30%).
Turnout will be an important factor in these referendums. Recent polls indicate that Europe is not high on the list of voters' priorities, with many ambivalent about our role in Europe.
When YouGov looked into this last year it found around 10% of people support a more integrated Europe, 13-17% are happy with the status quo, 33-40% want a less integrated Europe with more powers returned to the UK and only 23-29% support total withdrawal from the EU.
It is also very possible that only those who feel strongly about this issue will bother to vote.
But there will be votes on this issue over the next 10 months and make no mistake, the results will be keenly watched.