Milan Mandaric says Harry Redknapp's resignation 'like divorce'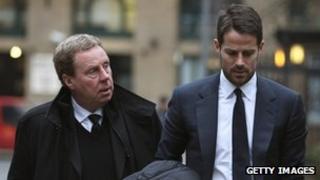 Ex-Portsmouth chairman Milan Mandaric said his relationship with Harry Redknapp was like a "bitter divorce" after he left the club.
Mr Mandaric told Southwark Crown Court Mr Redknapp, now Tottenham manager, was his closest friend in football before he left to become Southampton manager.
He described payments he made to the 64-year-old as "voluntary thanks".
Mr Mandaric, of Oadby, Leicestershire, and Mr Redknapp, 64, of Poole, Dorset, deny cheating the public revenue.
The pair are accused on two counts, the first being that between 1 April 2002 and 28 November 2007, Mr Mandaric paid $145,000 (£93,100) into a bank account held by Mr Redknapp in Monaco, to avoid paying income tax and National Insurance.
The second charge for the same offence relates to a sum of $150,000 (£96,300) allegedly paid by Mr Mandaric to the same account between 1 May 2004 and 28 November 2007.
When asked about his relationship with Mr Redknapp, Mr Mandaric said: "I have never had a closer relationship with a manager than I had with Harry."
On the subject of the Monaco payments, he said: "I wanted to do something special for Harry because he means more to me than a football manager. This was something as a friend.
"If this was something to do with employment, I would have done something entirely different.
"This is entirely my voluntary thanks without contract. Something special for my friend from football into friendship territory. That's all I wanted to do.
"I want to make it absolutely clear that it was completely away from his duties, his bonuses, his salaries... It has nothing to do with it. It is an entirely different subject."
Mr Mandaric told the jury his family had spent several days with the Redknapps and that Mr Redknapp would often pick him up and drive him around the Portsmouth area.
'Investment disaster'
He joked: "Rumour around was that he was the most expensive driver in England."
However, Mr Mandaric said his relationship with Mr Redknapp "started to go a little bit uncomfortable" amid frustration over fees being paid to agents.
He also said he lost £10 million in one year from investments.
He told the court that when Mr Redknapp had asked him about the Monaco investment he replied: "Harry, it does not look good. Actually it's disaster all over the world."
The court heard that the pair did not speak for a year after Mr Redknapp moved to rival team Southampton, in 2004.
"We didn't speak - it was a little bit of a bitter divorce," Mr Mandaric said.
"It was a bit on the bitter side, especially as Southampton, Portsmouth - there's not a lot of love lost."
Earlier, the football chairman explained to the court it was Apple co-founder Steve Jobs who had helped him make his fortune.
He said the late Mr Jobs had given him one of his first contracts after he emigrated to the US and opened factories manufacturing circuit boards.
Mr Mandaric said: "I was quite successful... Silicon Valley was just getting started and I was a part of that."
In 1980, after building seven factories in Los Angeles, he sold the company to Tandy in what Mr Mandaric described as "quite a good deal".
The court heard Mr Mandaric became interested in owning football clubs as the sport began to expand in the US and was involved in deals to bring football stars, including Bobby Moore, George Best and Pele, to the North American Soccer League.
The trial continues.