Chris Huhne: vultures gathering over speeding claims?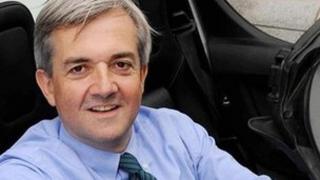 Is it the press pack hunting Chris Huhne, or politicians scenting the chance of a leg-up?
The papers have again been full of reshuffle speculation. But the investigation by Essex Police into claims Mr Huhne passed speeding points onto someone else has been running since May and there may yet be further twists.
I spoke to the energy secretary at a recent constituency meeting, and whilst making a joke at the expense of the many lawyers he has been seeing, he claimed he still had no idea of timings.
After the Sunday Times handed over emails Essex Police released this statement:
"Essex Police can confirm that officers have met with the CPS [Crown Prosecution Service] regarding the material received recently. The CPS have said they intend to take a decision [on whether or not to charge] within weeks."
Whichever way it goes it seems Chris Huhne could get an early reaction from his voters.
The MP who wrote a book on the benefits of Britain joining the Euro is on a list of MPs drawn up by the People's Pledge.
It plans to hold a referendum on Britain's part in the European Union at the start of April.