North West ambulance crews to tweet 'working life'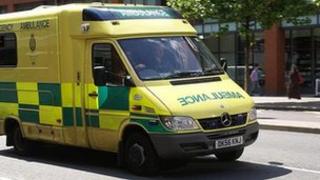 North West ambulance crews are to share their "day-to-day working life" via Twitter.
Five North West Ambulance Service (NWAS) crews from Liverpool, Burnley, Kendal, Crewe and Manchester will take part in the week-long project.
NWAS Director of Emergency Services Derek Cartwright said each crew would tweet for one day.
He said the tweets would not reveal patient details, but would show "the human side of the service".
They will be sent by a member of the service's communications team who will travel with each crew in order to ensure the project has no impact on patient care.
NWAS receives about 3,000 emergency calls every day and Mr Cartwright said that, as a result, "the day to day working life of an ambulance crew can be unpredictable".
"We never completely know what's behind each 999 call until we get there, so we have no idea what we will experience on the day, however it's sure to be informative and interesting," he said.
He added that he hoped the project would not just include the reporting of incidents, but also show "the other side" of the NWAS, such as "the race to get to life-threatening emergencies, the rescues and the comfort an ambulance crew can bring to patients and their relatives".
"We also want to show the human side of the ambulance service," he said.
"Each member of staff is someone's son or daughter, mother or father; they have feelings and emotions like everyone else, yet they carry out acts of courage every day in what can be a demanding and stressful job."
The project runs from Monday 30 January to Friday 3 February.