Sonic boom over Yorkshire caused by Typhoon jet from RAF Coningsby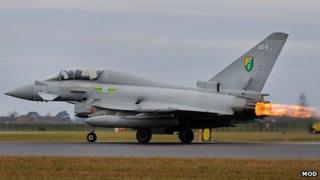 A loud noise heard by people across the north of England was caused by an RAF fighter jet breaking the sound barrier, the Ministry of Defence (MoD) has said.
The MoD confirmed a Typhoon jet from RAF Coningsby in Lincolnshire was authorised to go supersonic overland at 15:53 GMT.
The reports coincided with a major exercise ahead of the Olympics involving RAF jets over Yorkshire.
Two Typhoon jets from RAF Coningsby took part in the exercise.
The British Geological Survey said it had received reports from people in east Cumbria, North Yorkshire and West Yorkshire, who described hearing a "massive bang".
An MoD spokesman said the exercise, codenamed Taurus Mountain 1, was an opportunity for Royal Airforce and Royal Navy pilots to practice operating alongside each other in preparation for their security role at the Olympics.
Typhoon aircraft will be based at London's RAF Northolt during the Games.
A sonic boom is the sound associated with the shock waves created when an object, such as an aircraft, breaks the sound barrier.