Diana Wallis MEP's husband Stewart Arnold declines seat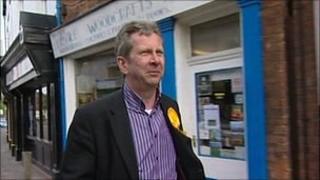 The husband of a Yorkshire and Humber MEP has decided not to take her seat when she steps down next month.
A row when it was announced that, as second on the Liberal Democrat list of candidates at the last European elections, Stewart Arnold could take the seat vacated by Diana Wallis.
On Friday, Mr Arnold said he had decided not to take up the post.
Ms Wallis resigned owing to the illness and Mr Arnold said he wanted to concentrate on supporting his wife.
The seat has instead been offered to 36-year-old Rebecca Taylor.
When it was announced Mr Arnold could take over, fellow Liberal Democrat MEP Chris Davies resigned as party whip in the European parliament in protest at what he called "nepotism".
Chronic illness
"One of the contributory factors of Diana's resignation was her illness (as outlined in her letter of resignation)," his statement said.
"I decided in the short term to give her the support she needs and not to take up the seat which would inevitably involve long periods away from home."
Ms Wallis, who was first elected in 1999, is a well-known campaigner for the Endometriosis Awareness campaign. She suffers from the chronic condition herself.
Both she and her husband declined to be interviewed about the decision.
Under EU rules the seat remains with the Liberal Democratic Party and has now been offered to the candidate who was ranked third on the list of candidates who stood for election in the Yorkshire and Humber region at the 2009 European elections.
Ms Taylor, from Todmorden in West Yorkshire, said she was "thrilled to be asked" and would consider the offer over the next few days.
She is a bilingual researcher for a London-based think tank specialising in health issues.
In 2010 she stood as a parliamentary candidate for the Liberal democrats in the South Yorkshire constituency of Rotherham.
Her father Michael is a former leader of the Liberal Democrats on Calderdale council and her mother Elizabeth stood for the party in the General Election in Halifax.