Trago Mills fine for Devon and Cornwall dumping is cut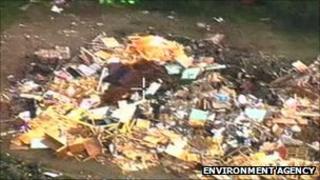 A discount department store chain has had a fine for dumping waste at two of its stores reduced by £120,000.
Trago Mills was ordered to pay £185,000 in fines last September after admitting illegally dumping and burning waste at its sites in Newton Abbot and Liskeard.
A judge at Exeter Crown Court cut the fine to £65,000 after being told the clean-up had already cost the company almost £500,000.
The Environment Agency brought the case after waste was found in 2009.
The agency said the amount of dumped waste, including asbestos, was believed to be "several thousand tonnes".
Trago Mills (South Devon) Ltd and Charles Robertson (Developments) Ltd admitted five breaches of the Environmental Protection Act 1990.
The agency said the company had co-operated in removing the waste.