Devon and Cornwall traffic police cuts 'may cost lives'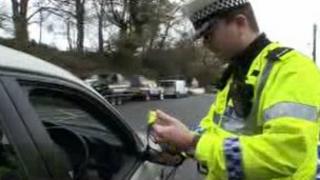 Cuts to traffic police in Devon and Cornwall could cost lives, a road safety charity has said.
The Brake organisation said figures it obtained showed a fall of about 16% in the number of traffic officers in the force area over two years.
Traffic officers fell from 72 in 2009 to 61 in 2011. Brake said it wanted to stop such cuts and put safety first.
The police force said the number of people killed or injured on roads had fallen despite the reduction.
'Policing style affected'
Ellie Pearson from the charity said such specialist officers played a "vital role in preventing deaths".
She said: "We're very worried that, by cutting the numbers of police, you are increasing the chances of crashes on the road and potentially the number of people who will needlessly be killed."
Devon and Cornwall Police said the reductions in officer numbers, as part of plans to save £47m over four years, "will have an impact on our style of policing".
It added: "However, the number of people killed and seriously injured are still falling, down 11.5% from last year despite reductions in staff.
"Our visibility remains high compared to most other forces, and people living in Devon and Cornwall have the highest level of confidence in the police across the country.
"We also still retain our specialist roads policing skills to deliver this important policing capability."